[15/05/2019 08:41]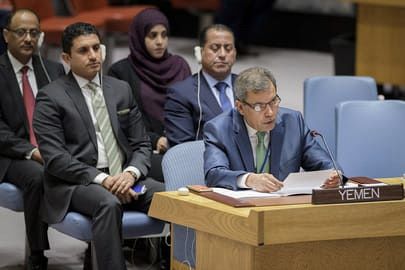 NEW YORK- SABA
The Government of Yemen has renewed its clear position of committing to UN Security Council's resolutions 2216, 2451 and 2452 and Stockholm agreement, rejecting any measure not subjected to control standards made by the resolutions.

The government renewed readiness for serious work on implementing all articles of Stockholm agreement on Hodeida, Taiz and releasing prisoners, kidnapped and forcibly disappeared people.

Yemen's Permanent Representative to the United Nations Abdullah al-Sa'adi said in Yemen's speech in the Security Council held Wednesday that if Houthi militia's withdrawal from ports happened without monitor and approval of Redeploying Committee-by its three parties- will represent violation to what happened during the past months agreement and failure to the international community's efforts as it provides free of charge service to Houthi militia to repeat the unilateral play it played in Hodeida Port in December 2018.

The government of Yemen confirms its right of checking any step to be implemented as part of Stockholm agreement and examining lists of coast guard forces, which will take over the ports after Houthi withdrawal from them before talking on any step to follow, said al-Sa'adi, confirming Yemen's right on monitoring the withdrawal within the UN resolutions and through Redeploying Committee.

The government of Yemen confirmed also that Stockholm agreement came as a confidence-building step needed for inclusive solution to Yemen's crisis and failure of Houthi militia in dealing with the international community and the government of Yemen for establishing necessary confidence will make them unreliable party as fingers to Iran.

It also confirmed that that proceeding towards peace and ending suffering of Yemeni people is not possible without taking serious position from the Security Council and exerting pressure on Houthi militia to implement Stockholm agreement.

"The United Nations should have sought to implement the agreements and must not accept such explicitform of fallacies as Houthi rebel militia's rejection of peace chances and their will of prolonging and increasing suffering of Yemeni people confirm repeated expressions of the government of Yemen that these militias are not serious in submission to peace and responding to UN efforts," he said.

He added that Houthi militia's evasion from implementing the first phase agreement presented by the Head of the Redeployment Committee and agreed upon by the government of Yemen and Houthimilitia is an attempt by Houthi militia to implement it away from any reference and consensus.

"Five months have passed since reaching to Stockholm agreement between the government of Yemen and Houthi militia and our Yemeni enduring people had hope this step would be the beginning of the end of the tragedy inflicted this great people over those militia's coup and destroying its capabilities and economic, social and cultural abilities," said Yemen's Representative to the United Nations Abdullah al-Sa'adi.

Unfortunately, Houthi militia seized these agreements and every step for peace and political solution for investing time and regrouping and sending more military reinforcements to commit crimes against Yemeni people in their held-areas in stark breach to all humanitarian values and norms, he added.

He called upon the Security Council to exert pressure on Houthi militia to implement the agreement of exchanging prisoners, detainees, forcibly disappeared people and people under house arrest with the principle of " all for all" agreed upon before Stockholm agreement as this issue is humanitarian must not be subjected to political gains.

He also called for exerting pressure on Houthi militia to end chains and obstacles imposed by the militia on food and medicine assistances and ensuring their arrival to beneficiaries in their held-areas.






---

Foreign Minister stresses necessity of addressing international security challenges

Al-Eradah announces construction of two colleges, residential buildings at Saba Region University in Marib

Leadership Council Chairman receives Saudi Foreign Minister

Leadership Council Chairman meets with US envoy, and British and French foreign ministry officials

President al-Alimi discusses with Russian FM mutual relations

Leadership Council chairman meets Foreign Minister of Oman

President al-Alimi receives US envoy for Yemen

Leadership Council Chairman meets Iraqi Prime Minister

Leadership Council Chairman meets with Director-General of UNESCO

Consultation Commission holds extraordinary meeting to discuss developments in de-escalation efforts