[26/02/2019 02:30]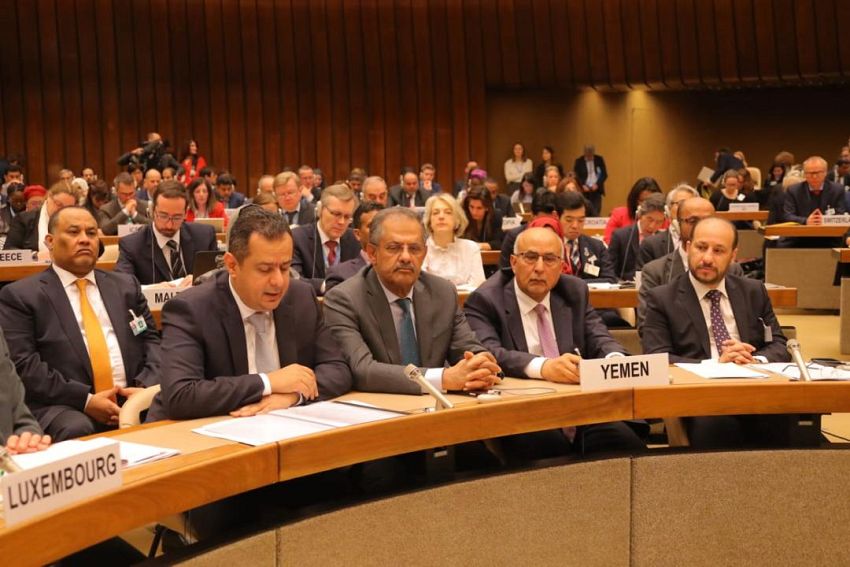 GENEVA-SABA
Prime Minister Dr Ma'een Abdulmalik stated that Yemeni Government hinges great hopes upon brothers' and friends support in financing Humanitarian Response Plan in Yemen and shoring up the government' policies aiming to mitigate the humanitarian crisis and bring more stable situations.

In his opening remarks at the Fund Raising Conference held Tuesday in Geneva with purpose of securing necessary resources to fund the Humanitarian Response Plan in Yemen in 2019, he called for supporting the government's efforts, enabling it to function effectively, deliver on its commitments to the Yemeni people.

He said" Yemeni government gets this conference a good opportunity to secure the urgently needed resources that can help alleviating the Yemeni peoples' suffering. We have great hopes of you, our brethren and friends to finance the Humanitarian Response Plan and sustain the government's efforts and helping it to do its responsibilities toward the Yemeni people".

Dr Ma'een cited his government's efforts aiming to manage the economic hardships and stop the slide of national currency value.

" Practical steps have already been adopted to stop the national currency determination. Exchange rate of Yemen Rial (YR) brought down from 800 (YR) for $1 to approximately 550", said Ma'een.

He added that basic commodity costs reduced with 30 percent and fuels prices were decreased with 25 percent.

Concerning to public civil service employees, the Prime Minister noted that his government has managed to pay regularly up to half of the total number of civil service employees (600,000) and 32 thousand of the public employees in Hodeidah governorate and 122 thousands of pensioners throughout the country have been regularly paid since November 2018.

Dr Ma'een went on " the government is committed itself to pay the government's employees in health sector in the militia-controlled regions, they are some 24 thousands and to pay professors 50% of their monthly salary, they are around 8 thousand".


---

Al-Mahrami: We are ready to stop war if we find real partner in Sana'a

Mujalli: He who recruits children, brainwashes them with terrorism has no will for peace

FM discusses with Jordanian counterpart preparations for joint committee's meeting

Industry DM. calls businessmen to invest in home

Presidential Council member Tariq Saleh discusses security developments in Taiz axis

Civil Organization condemns Houthi bombing of homes in Amran

Badheib: The World Bank agrees to provide an additional grant of $100 million

Chairman of PLC receives Saudi Deputy Minister of Defense to discuss fast-track for development assistance

Presidential Council Member al-Alimi receives US ambassador

One more detainee dies due to brutal torture in Houthi militia's jail