[21/09/2018 06:45]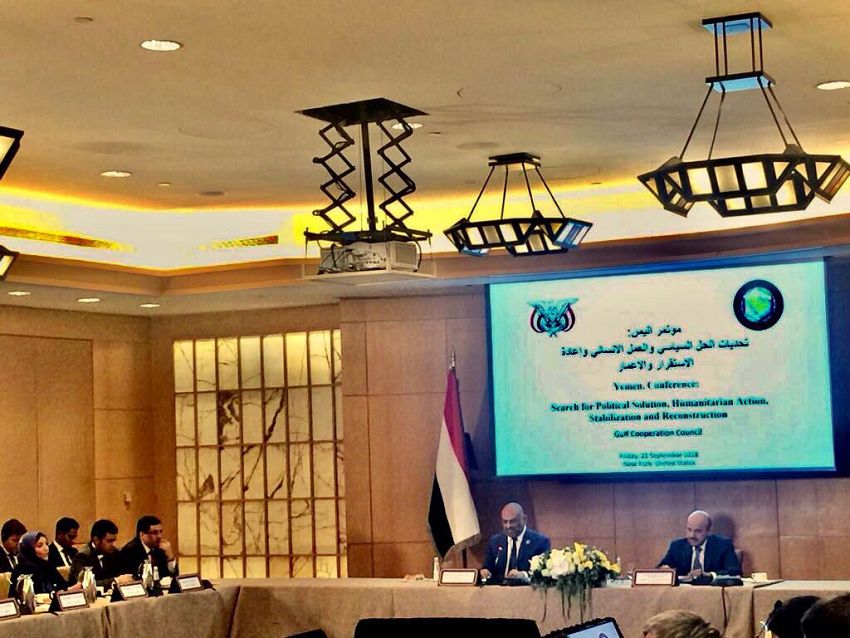 NEWYORK-SABA
Foreign Minister Khaled Al-Yemany in Yemen's Conference" Yemen's Conference:" Challenges of political solution, humanitarian action, re-establish stability, re-construction".

The gathering organized by the GCC along with the Yemeni government on the sidelines of the UN's General Assembly in New York.

Al-Yemany delivered a word in which he expressed appreciation for the GCC, particularly the Kingdom of Saudi Arabia and the United Arab Emirates, the key partners in the Arab Coalition alongside the Yemeni government for restoring the State, establishing sustainable peace in Yemen that is based on the nationally, regionally and internationally approved terms of references.

Al-Yemany said:" What Yemen has been experiencing today is a result of Houthi militia's coup against the political transition process which followed the GCC-brokered deal which endorsed by the political parties in November 2011. It is an initiative came to satisfy the Yemeni peoples' aspirations for change and reform alongside maintaining Yemen's unity, security and stability. That is what makes it the first of the three primary terms of references for the political solution in Yemen through completing its executive mechanism, referendum on the constitution and holding parliamentary elections. It is unacceptable to mess with these conditions or to get around of them".

Al-Yemany cited the texts of the GCC which stipulated holding the Inclusive National Dialogue Conference that several political constituencies included influential political and social groups with active contribution by youths, woman, Ansar Allah group, Salfists, southern movement and civil society".

He went on saying:" The National Dialogue Conference came up on January 26, 2014 with a document called" Inclusive National Dialogue's Document". It drew out a roadmap toward Yemen's full transformation into a State that supports democracy, freedom, rule of law, human rights and good governance on the basis of federal ruling system".

Al-Yemany stated that since the onset of 2014 Houthi militia tended to military escalation with the intention of carrying out a coup d'état against the state's authority, taking over the government's institutions to serve Iran's expansion political agenda in the region. As a result a' Coalition for restoring legitimacy' led by Custodian of the Two Holly Mosques King Salman Bin Abdulaziz had to intervene, it was a step the first of its kind and the most prominent in Arab modern history".

Al-Yemany came to say:" The Yemeni government has been and will continue to extend hands for sustainable peace that is based on the three terms of reference: GCC's Initiative, its operational plan, outcomes of National Dialogue and UNSCRs, mainly 2216.





---

Deputy Planning Minister meets with Deputy Director of OCHA and head of Belgian MSF Yemen mission

Doha: Qatari PM receives Yemen's Prime Minister Dr. Maeen Abdulmalik

Yemen denounces terrorist attack on Turkish Security Directorate

PM arrives Doha in state visit to Qatar

Houthi militia bombard Yemen besieged city with artillery shells

Security Council's members renew support to UN Envoy for peace in Yemen

President al-Alimi congratulates on anniversary of establishing China

Erada and Bin Nahid lay foundation stone for completing Marib International Airport project

Arab Parliamentary Union condemns Houthi intransigence and insistence on rejecting dialogue

Cabinet discusses developments in internal and external situations