[26/06/2018 02:41]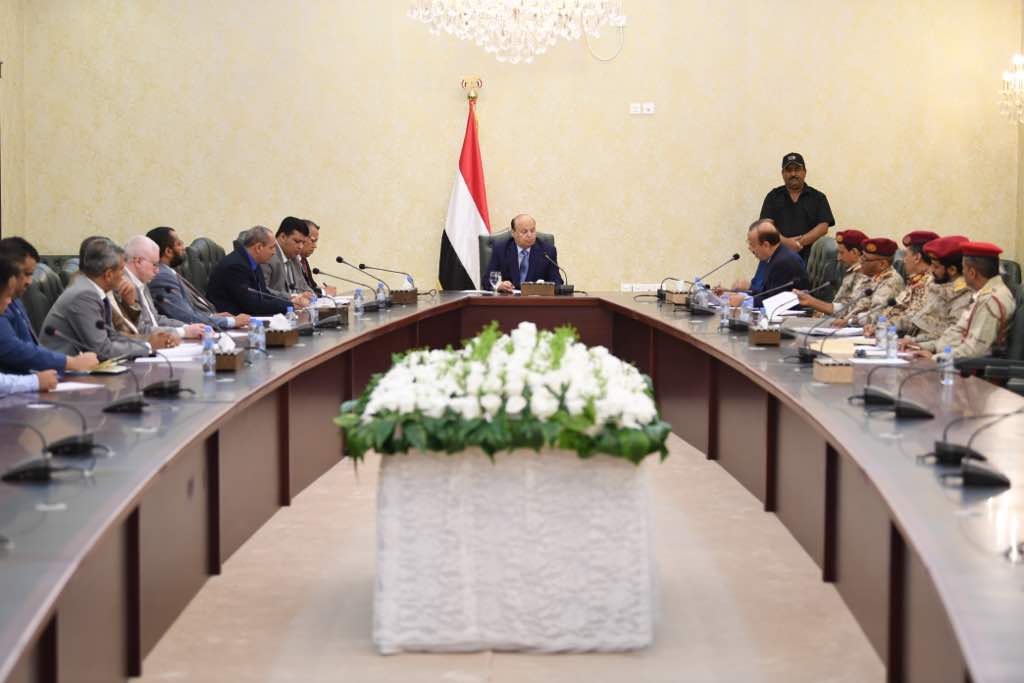 ADEN-SABA
President Abd-Rabbu Mansour Hadi advised senior officials of Taiz province to act as a team for Taiz's interest. He said:" You must be well aware that Taiz has paid high tax for countering Houthi militia and it deserves that you should work together as a single team to serve Taiz's interests, yours and your own fellows.

His Excellency (HE) added:" I would like you to raise up to the occasion, put your differences aside, forget about your partisan calculations and put Taiz above all and its interest first".

The President statement came during his meeting Tuesday in Aden with governor of Taiz Dr Ameen Muhmood, deputies of governor and senior civil, military and security officials.

Prime Minister Dr Ahmed Obeid Bin-Dagher and, Deputy Premier, Minister of Interior Ahmed Almaysari were in attendance.

President Hadi praised significant contribution the people of Taiz have made toward countering Iran-backed Houthi putschist militia's coup and scheme.

During the meeting HE talked about the latest developments in the country, underlining underway military advancements and combat operations in different fronts where national military alongside local resistance backed by Saudi-led Arab Coalition have been battling Houthi militia.

Prime Minister Dr Ahmed Obeid Bin-Dagher contributed to the meeting, citing the government's efforts aimed to re-normalize situations in the province.

The governor provided a detailed report about the situations in the provinces, efforts have been made and measures taken to re-normalize the situations and re-instate the State's authorities and basic services.

Challenges and urgent needs need to be addressed were also touched upon.



---

Presidential decree mandates COCA to audit the CBY actions

Republican decree reshuffling CBY's board issued

Republican Decree appoints vice finance minister issued

President Hadi touts gains of the army and the resistance on Marib fronts

President Hadi makes a phone call to the governor of Shabwa to inspect the situation of the governorate

President Hadi: Ages of Masters and Slaves gone, Yemeni peoples won't accept Iranian style-ruling

President congratulates Mauritanian counterpart on independence

Rajeh Badi sworn in as Ambassador of Republic of Yemen to Qater

President Hadi receives credentials papers of newly appointed ambassadors to Yemen

President Haid extols troops heroic fighting against Houthi militiamen