[22/01/2018 04:29]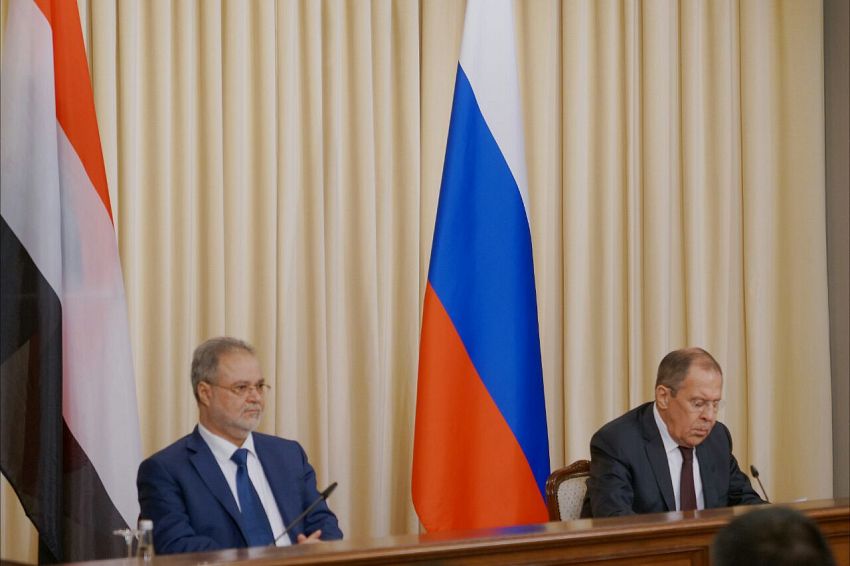 MOSCOW-SABA
Deputy Premier, Foreign Minister Abdulmalik Al-Mikhlafi said:" War was imposed upon the Yemenis, they didn't choose it willingly.. Houthis waged it once they carried out their coup and swept the capital Sana'a and Yemeni provinces".

Speaking at joint press conference he held in Moscow on Monday with Russian Foreign Minister Sergey Lavrov, Al-Mikhlafi added:" Houthi have never proved to be peace partners, evidences clearly shown the opposite on the daily basis.. Most recent evidence is the crime of killing the former President Ali Saleh.. Their missiles have continued to be fired into the Kingdom of Saudi Arabia territories".

Al-Mikhlafi stated that Yemeni government is committed to peace that should be based on the internationally, regionally and nationally approved references: Outcomes of National Dialogue, GCC's brokered-deal and UN Security Council resolution 2216 and other UN's resolutions in relevant.

The Foreign Minister noted that Russia has key effective role to play in getting Yemeni crisis solved. It is a permanent member state of International Security Council and it has got a very good relations with Yemen.

For his part, the Russian Foreign Minister Sergey Lavrov stated that situation in Yemeni has become more complicated in the wake of the assassination of the former President Ali Saleh, describing the Houthis' crime as "hideous" aimed to hinder peace process efforts.

Lavrov has confirmed that Yemeni government dealt constructively with the efforts aimed to bring about peace. He stressed that there is no real alternative of the Yemeni dialogue to achieve peace and Russia would support the political solution efforts.

Following the press conference a work luncheon held during which bilateral ties and developments in the Yemeni arena were elaborately discussed.


---

Ministry of Industry decries Houthi militias for getting the Yemenis starving

Prime Minister: We've to explore permanent solutions to power shortages

Baggash confers with Chinese diplomat over Houthi militias' escalations

Yemen participates in 26th session of the Committee on Science and Technology for Development

Eryani expresses surprise over international silence for Houthi abuse and atrocities against journalists

President al-Alimi: We're very keen to get all detainees released

The Ad hoc committee tasked with revising lists of the students abroad reports to prime minister

Prime Minister chairs joint meeting with the two Ministries of Defense, Finance

President al-Alimi meets with presidency of consultation authority

World Bank offers Yemen $ 207 million in aids