[22/12/2017 07:15]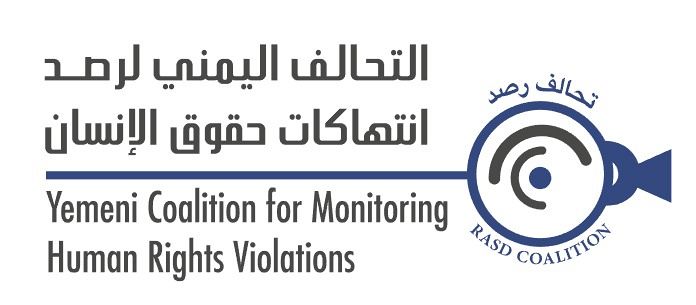 Aden - SabaNet
Yemeni Coalition for Monitoring Human Rights Violations (Rasd Coalition), confirmed in recent statement that Houthis militia, has abducted and forcibly disappeared 18606 people at different governorates of the country during the period September 2014 – July 2017.

In statement received by Yemeni News Agency SABA, Rasd indicated that number of abduction committed by Houthis militia and monitored by the Coalition, has reached 15968, while forcible disappearance cases reached 2638 at different governorates.

The statement detailed that that forcible disappearance in 2014 and 2015 reached 1917, 231 in 2016, and 490 in 2017.

Rasd Coalition noted that the abductees and disappeared face serious Health conditions, due to torture at the militia's
prisons, who were detained unlawfully, confirming that abduction and forcible disappearance are crimes against humanity.

Rasd Coalition confirmed that it is continuing its work in monitoring and documenting human rights violations against civilians through its monitors in the Yemeni governorates that witness military confrontations by Houthis militia, and the systematic violations on women and children.

Yemeni Coalition called for immediate cessation of the violations by Houthis militia, including abduction and forced disappearance, and to immediately release all abductees, and forcibly disappeared people.

Further the Coalition called upon the Security Council, Human Rights Council and the UN system, as well as local and international organizations concerned with human rights to exert more pressure on the militia to disclose abductees and forcibly disappeared whereabouts and to release them immediately.


---

Houthi militia destroys house of deputy interior minister in Sana'a

resident al-Alimi congratulates Italian President on his country's National Day

Health Minister, WHO's Director discuss challenges facing health sector in Yemen

Al-Awadhi discusses with Kenyan official bilateral relations

Prime Minister praises British support for government's efforts to manage the economic hardships

Yemen calls on international community to help it managing natural disasters' risks

Parliament presidency holds meeting with PM to find out about current developments

US ambassador condemns terrorist Houthi militia's attack on the Baha'is

FM receives credentials copy of Polish ambassador to Yemen

SJC approves formation of an accountability council headed by Judge Haydan Jomaan