[26/10/2017 02:33]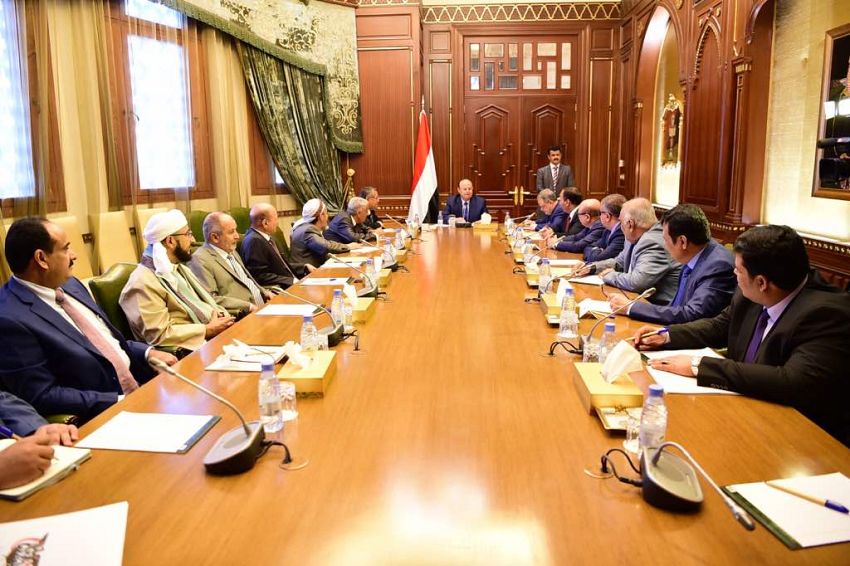 RAIYDH-SABA

The president of the republic Abd Rabu M. Hadi presided over a meeting Thursday brought together his advisors and Prime Minister Ahmed Obeid Bin-Dagher, Deputy Premiers : Abdulmalik Al-Mikhalifi, Maj. General Hussein Arab and Abdulaziz JUbari.

The meeting touched upon overall developments in Yemen. President Hadi said:" We understood hardships facing Yemeni people either in liberated regions or under Putschsits control due to repercussions of the unfair war imposed by the Putschsits upon Yemeni to serve Iran's interests".

"The Putschsits are being used as instruments to destabilize security and stability of neighboring countries, mainly Kingdom of Saudi Arabia that Iran seeks to create a new "Hezb Allah" on the Kingdom's borders", Hadi added.

HE went on saying:"Our objectives are clear and our track is identifies by national consensus and references of peace that based on the GCC' deal, National Dialogue's outcomes and UN related resolutions on top of all resolution 2016 that is backed regionally and internationally".

The President touched upon underway efforts aiming to bring economic and developmental stability in cooperation with World Bank (WB) and International Monetary Fund (IMF). " In this regard one billion dollars already approved to support Social Care Fund. Furthermore, cooperation with Universal General Electric Co. to enhance electricity power up to 500 MGW, besides network energy in Wadi Hudramout up to 75 MGW", he said.

Prime Minister Ahmed Obeid Bin-Dagher presented a brief report about his government efforts and actions on the ground in temporary capital Aden and other liberated governorates.

Bin-Dagher briefed the President and his advisors on security situations and challenges in different fields, underlining that more cooperation and constructive coordination with brethren in Saudi-led Arab Coalition is imperative to achieve Yemen's constitutional objectives.

Deputy Premier, Minister of Civil Service Adulaziz Jubari spoke about positive outcomes of his visit to Taiz governorate, demanding more support to injured persons.




---

Leadership Council chairman meets Foreign Minister of Oman

President al-Alimi receives US envoy for Yemen

Leadership Council Chairman meets Iraqi Prime Minister

Leadership Council Chairman meets with Director-General of UNESCO

Leadership Council Chairman meets Bahraini FM

Leadership Council Chairman and Council member Al-Zubaidi participate in Climate Ambition Summit

Leadership Council Chairman receives Arab League Secretary-General

President al-Alimi receives Emirati Foreign Minister

President al-Alimi meets with Jordanian Monarch King Abdullah II

President al-Alimi, member of PLC participate in UN opening session