[22/09/2017 01:13]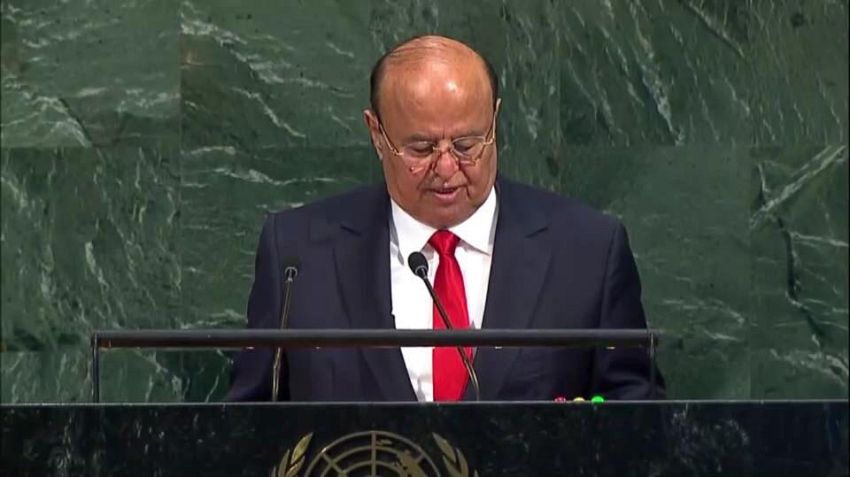 NEW YORK-SABA

President Abdu Rabbu M. Hadi has told the world leaders that the diehard Saleh-Houthi rebels are "an extremist religious dynastical group that believes Allah have given them a divine right to rule."

Addressing the UN General Assembly's 72nd session on Thursday, Hadi said: "The problem in Yemen is a political difference. That can be managed only through tables of political dialogue. The government has made big concessions and enormous efforts in respect of dialogue, though. This is not even a coup d'état in the conventional sense of coups that happen in the world. But there is much more to it than that, to the level of religious and philosophical beliefs that contravene the system of mutual respect values."

He said that the Saleh-Houthi coup "went beyond the typical practice of coup which takes over, but preserves- the state institutions to the point eliminating the existing state structure entirely."

Hadi has called on the UN, along with the int'l community, "to assume its responsibility by pressurizing on the [Saleh-Houthi] coupists to implement the UNSC resolutions and offer real concessions to spare Yemen further bloodshed and destruction."

He said: " From this podium, again, I reaffirm our readiness to stop the war and reach peace and we are not in favour of war and revenge, we are in favour of peace and harmony.

I personally have and always will extend my hand for lasting peace.

Because I feel a full sense of responsibility toward all the patiently enduring people of Yemen. I affirm we are still committed vehemently for a peace based on the three terms of reference. And the international community has to perform its duty of holding the hinderers of peace accountable as per the UNSC's resolution no. 2216."

More excerpts of President Hadi's speech.

"This session has come while we, in Yemen, are finishing the third year of war, imposed on our people by the Saleh-Houthi alliance who rebelled against the agreed upon solutions set forth in the GCC Initiative and the outcomes of the National Dialogue and spoiled the political process that was making progress in the country under full and unprecedented UN patronage."

He expressed the government's readiness to facilitate the delivery of relief aid to all Yemen including the areas under the control of the Saleh-Houthi alliance of radical militias.


---

President al-Alimi receives congratulation cable from King Salman, Crown Prince

Leadership Council Chairman calls on militias to learn September lessons, abandon unviable project

Leadership Council Chairman concludes high-level discussions in New York

Leadership Council Chairman praises Yemeni expatriates' role in combating Imamite ideology, alleviating suffering

Leadership Council Chairman praises Yemeni-Egyptian relations

President al-Alimi discusses with UN Secretary General humanitarian developments, peace efforts in Yemen

Leadership Council Chairman calls for an effective response to the national immunization campaign

Leadership Council Chairman receives British Deputy Prime Minister

Leadership Council Chairman praises Yemeni-American partnership in the field of antiquities protection

Leadership Council Chairman congratulates Saudi leadership on Saudi National Day