[25/07/2017 02:03]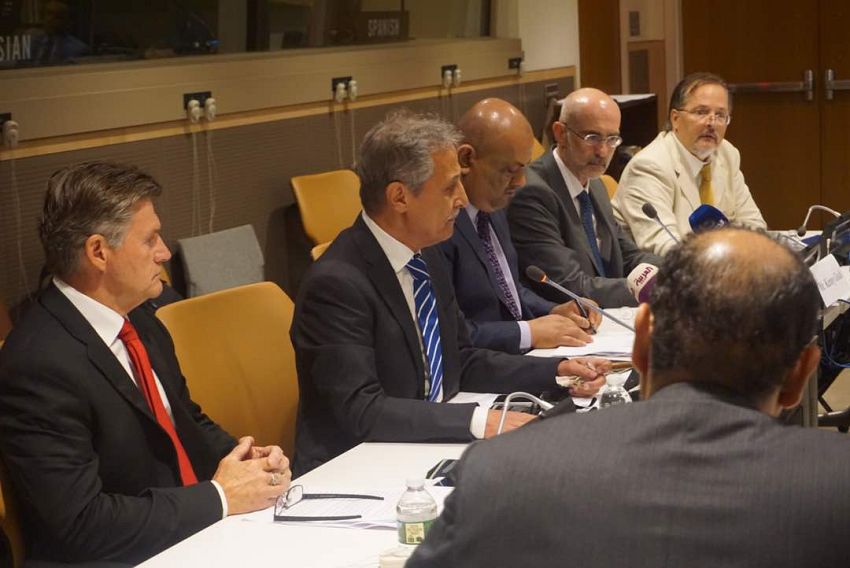 NEWYORK-SABA
Yemen mission to the United Nations in the collaboration with the Abductees' Mothers Association and the Yemen-American Coalition on Monday arrangeda symposium and a photographexhibition on the detainees held in the Houthi-SAleh militias.

In the symposium held in the United Nations headquarters in New York with the presence of representatives of states, international organizations, activists and journalists, Yemen Representative to the United Nations Khalid al-Yamani spoke about the detention of thousands of Yemeni politicians, activists, journalists and civilians by the Houthi-Salehmilitias.

"The issue of detainees is very significant as the Houthi-Saleh militias have been committing violations against human rights since they conducted a coup against the legitimacy," al-Yamani added.

"Thousands of oppositionists and civilians were illegally detained, so the world community must help these detainees get their rights in contacting their families and being prosecuted fairly," he went on.

Deputy Special Representative of Security Council to Yemen Kenny Gluck affirmed that issue of detainees is alwaysput on the of negotiation agendas, pointing out that the issue was raised in negations held in Kuwait.

Dr. Stephen Day, Professor at Rollins College, Orlando, spoke about human rights in Yemen's civil society organizations, signaling out that rights badly deteriorated after the Houthi-Saleh militias conducted their coup.

Dr. Abdulkader al-Guneid, a former detainee by the Houthi-Saleh militias said that the militias hijacked Yemen, besieged his city, Taiz, and kidnapped people.

Mark McAlister, a former American detainee by the Houthi-Saleh militias in Yemen spoke about his personal experience inside a Houthi-Saleh militias.





---

Presidential Leadership Council Chairman receives UN Special Envoy

President al-Alimi receives Chairman of European Commission

President of Leadership Council receives congratulations from Saudi leadership on revolution anniversary

Al-Alimi: 26 September revolution was not directed only against the backward regime, but was for the sake of life and dignity

Yemenis celebrate the September revolution and renew the pledge to end the Houthi coup

Transport Minister, UNDP discuss $3.5 million Japanese grant to improve seaports

Signing Saudi Note on supporting Safir Tanker with USD 10 million

€1million French-funded project to support fishermen in Hadramout

President al-Alim leaves New York

President al-Alimi contributes to Seminar about the Yemeni Crisis