[29/06/2017 06:41]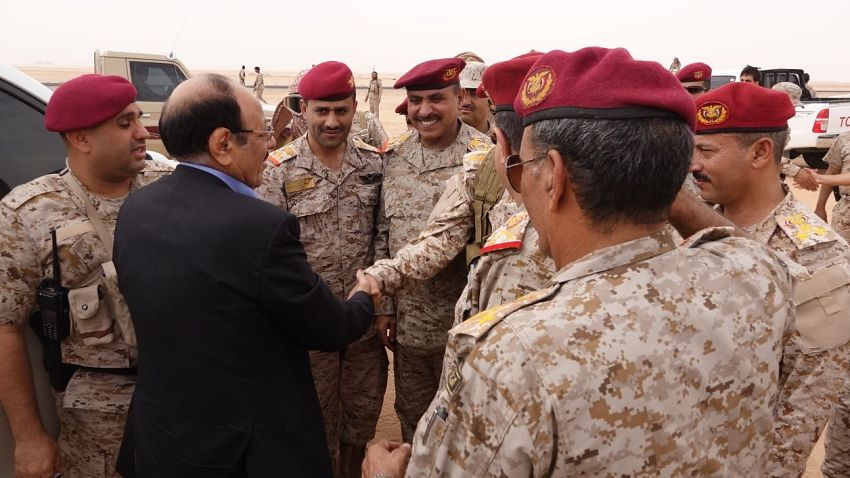 MARIB-SABA
Vice president Lt. Gen. Ali Mohsen Saleh has called for more national unity and alignment in order to liberate the rest of the country from coup militias.

The vice president made the remarks upon arriving in Marib where he chaired a meeting of senior state officials, military and political, in the province.

He hailed the army's recent gains in Serwah and other battlefields expressing appreciations to the Kingdom of Saudi Arabia and the UAE for backing the Yemeni government.

The vice president also thanked the local authority of Marib city, represented by governor Maj. Sultan al-Aradah, for their improvement of the local infrastructure and their efforts to accommodate newcomers in the city.

He affirmed that the government's priority is to end coup and fight terrorism as two urgent demands to rebuild the six-region federal state.

"Victory is inevitable and the government will soon be in Sana'a," he said. He underscored how the wretched humanitarian and health conditions were induced by the coup.

He thanked King Slaman's Relief Center, the UAE Red Crescent, the Yemeni-Kuwaiti Relief Agency and other international relief organizations for helping in containing the outbreak of cholera in the country. The vice president made good mention of the latest directive from the Saudi crown prince Mohammed bin Salman to donate USD66 million Saudi additional grant to eliminate cholera "at a time when the coup militias confiscate relief and health aid."

The vice president warned of the serious threat the coup militias pose to international shipping and their organized terrorism in all fields. Warned also of the militias' targeting of Yemeni identity through their alignment with the puritan Persian ideology and instilling this ideology in young generations to form an Iran-allied sectarian army.

The chief of staff Mohammed A. al-Maqdashi affirmed in the meeting the military advanced made in different battle fields in the country recalling some setbacks that yet need to be overcome to finish the recapture of the rest parts of the country.


---

Parliament Speaker, UN's Envoy discuss peace efforts

Leadership Council chairman receives UN Special Envoy

First national meeting on nutrition in Yemen held

Annual meetings between government and IMF held in Amman

FM discusses with UN Envoy peace process

PM offers condolences to Indian counterpart over fall of victims in train crash

Lamlas: Aden governorate not affected by tremor that occurred in Gulf of Aden

Six injured people benefit from Marib Limbs Center

Houthi militia destroys house of deputy interior minister in Sana'a

resident al-Alimi congratulates Italian President on his country's National Day