[16/04/2017 01:36]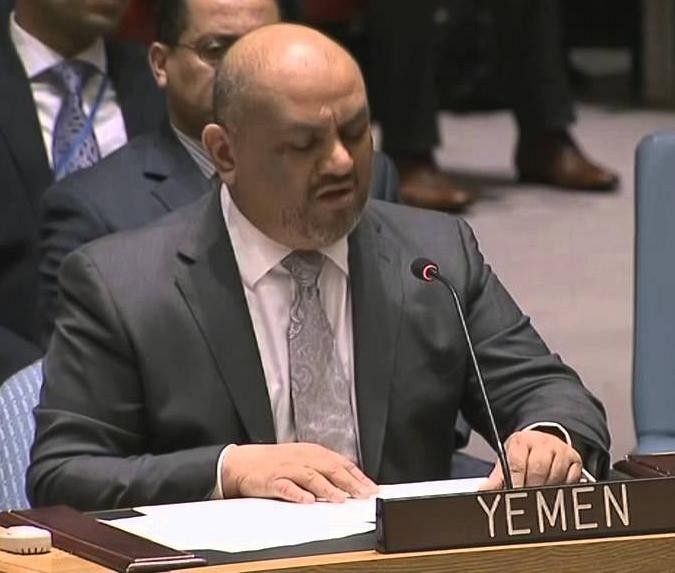 Paris, (Saba) - Solutions to Yemen's crisis should be sustainable and based on the GCC Initiative, outcomes of the National Dialogue Conference and Resolutions of the UN Security Council led by Resolution No. 2216, said Yemen's Ambassador to the United Nations Khaled al-Yamani.

" We have repeatedly confirmed our acceptance of Kuwait Talks, which were totally rejected by rebels party, who also refused to present any prospect on implementing agreement on security field," added al-Yamani in a paper he presented in the symposium on Conditions in Yemen and Peace Requirements held in the Arab World Institute and organized by Yemeni Embassy here.

Since seizure the power by the force of weapon, Houthi-Saleh's alliance worked on implementing Iranian strategy of

influential expansion in Yemen and the region via controlling Yemen and attacking border of Saudi Arabia, said al-Yamani.
The ongoing war in Yemen has never been a choice for the government led by President Hadi, he said, "but was imposed on us after aborting all peaceful choices and despite the big concessions we made for avoiding heavy price by Yemeni people would pay and despite all challenges and difficulties, we still extend our hands for just peace to put an end to the rounds of political violence."

He confirmed that there is a radical change in US position as statements of the White House, the National Defense Council and US State Department indicate more seriousness towards Iran and its terrorist branches in the region.

"Russia stands by constitutional legitimacy in Yemen, and France's position supporting a political transfer in Yemen is the same that supports restoration of the state in Yemen and supports the government and the Coalition," said Yemen's Ambassador to the UN Khaled al-Yamani.

He added that the new UN Secretary General has clear vision on the Yemeni crisis and this vision will reflect his great political experience.



---

Transport Minister, UNDP discuss $3.5 million Japanese grant to improve seaports

Signing Saudi Note on supporting Safir Tanker with USD 10 million

€1million French-funded project to support fishermen in Hadramout

President al-Alim leaves New York

President al-Alimi contributes to Seminar about the Yemeni Crisis

President al-Alimin briefs Yemeni community in New York on developments in the homeland

President al-Alimi discusses with UN Secretary General peace efforts in Yemen

Yemen, China discuss coordinating positions towards issues of common concern

President al-Alimi receives French foreign minister

President al-Alimi praises role of Arab League of supporting Yemen's issue