[11/04/2017 02:25]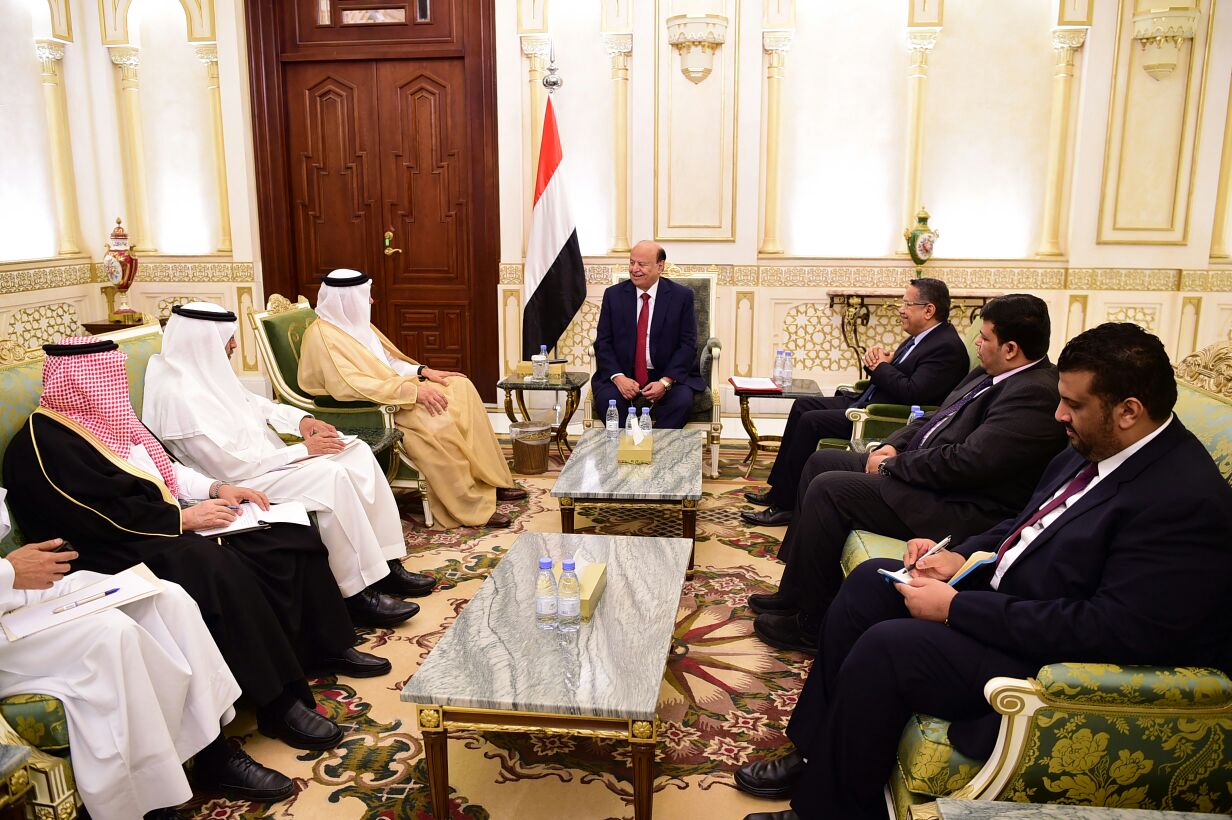 Riyadh, (Saba)- The Operation Firmness Storm represented the core and and icon of brotherly fruitful cooperation ( between Yemen and Saudi Arabia) for facing challenges threatening our nation and our identity over Iranian interventions in the region via its agents, said President Abdo Rabbu Mansour Hadi.

In a meeting with the Secretary General of Gulf Cooperation Council, Abdullatif al-Zayyani along with Assistant Secretary General for Political Affairs and Negotiations Abdul-Aziz al-Uwaisheq and the GCC Envoy to Yemen Madkhal al-Hathlani on Tuesday, President Hadi highlighted efforts of GCC countries supporting Yemen and their standing by it in different conditions.

"Positions of the GCC countries towards their brothers in Yemen are not new," he said reviewing common relations and joint positions in different stages. He praised efforts of al-Zayyani, who joined Yemen's crisis since drafting the GCC Initiative and its Implementation Mechanism for making the success of power transfer peacefully before Houthi-Saleh rebellion.

President Hadi asked al-Zayyani to convey his best wishes to the GCC leaders, who made sacrifices with Yemeni brothers to rescue Yemen.

For his part, the GCC Secretary General expressed happiness for meeting with the president in the framework of consultation and cooperation between the GCC countries and Yemen.

" Cooperation soul between the council leaders and their brother President Abdo Rabbu Mansour Hadi is lasting for supporting Yemen and its constitutional legitimacy to achieve our strategic aims in realizing peace in Yemen and the region," said al-Zayyani.



---

Presidential decree mandates COCA to audit the CBY actions

Republican decree reshuffling CBY's board issued

Republican Decree appoints vice finance minister issued

President Hadi touts gains of the army and the resistance on Marib fronts

President Hadi makes a phone call to the governor of Shabwa to inspect the situation of the governorate

President Hadi: Ages of Masters and Slaves gone, Yemeni peoples won't accept Iranian style-ruling

President congratulates Mauritanian counterpart on independence

Rajeh Badi sworn in as Ambassador of Republic of Yemen to Qater

President Hadi receives credentials papers of newly appointed ambassadors to Yemen

President Haid extols troops heroic fighting against Houthi militiamen