[08/04/2017 07:59]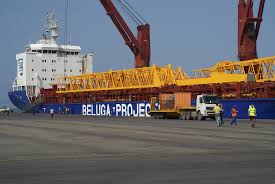 Aden, (Saba)- Efforts are exerted to re-open Mocha Port after being freed from Houthi-Saleh's militias, Deputy Minister of Transportation Naser Sharif has said.

The Ministry of Transportation is preparing alternative ports and other ground outlets to Hodeida to ease access of humanitarian aid through the outlets under the legal authority, he added.

"Hodeida Port has been stopped as the sole outlet used by militias for weapon trafficking in parallel with preparations by the national army and Arab Coalition to finish western coast battle and freeing Hodeida Port," said Sharif.

Recapturing Hodeida Port by the national army, with support from the coalition jet fighters, represents deadly blow for it is used by the militias as a mainline for supplying with weapons.

The ministry is preparing necessary measures to operate the two ports of Hodeida and Mocha after their recapture, he said.

The ministry is also studying legal, administrative, technical and financial procedures to transfer the headquarters of the Red Sea Port's Corporation to Mocha for securing all needs of the citizens and securing maritime.



---

Three civilians injured among them child by Houthis' drone assault in Marib

Defense Minister visits headquarters of Joint Forces Command in Jizan

Masam removes 1,201 Houthi landmines within a week

70 breaches on Saturday by Houthi militias against the UN-sponsored truce

Houthi militias blamed for 1432 breaches of the UN-brokered truce in Taiz

Up to 165 breaches of the UN-brokered truce by Houthis over past couple of days

Human Rights Ministry condemns Houthi militias' crimes against civilians

Chief of Staff discusses with ICRC delegate situations of kidnapped in militia's prisons

Yemeni Network for Rights condemns Houthi burning of African immigrants' tents

PM visits Aden Refineries and reviews the steps to implement plan to restart it