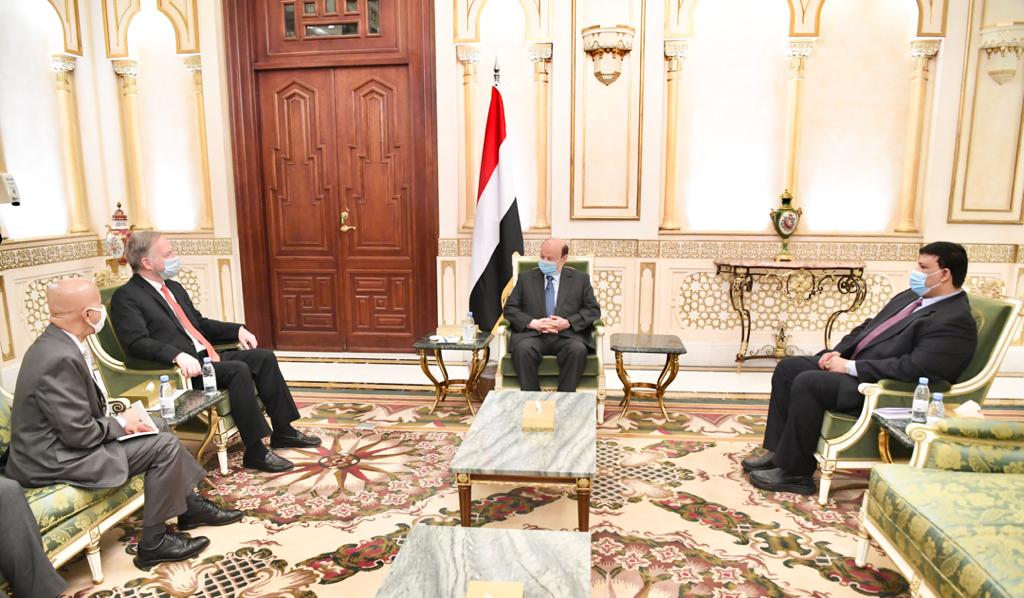 RIYADH - SABA
President of the Republic Abd-Rabbu Mansour Hadi praised Yemen's relations with the United States of America, affirming that Yemeni-American relationships are robust based on partnership and cooperation in different issues of common concerns to serve the two friendly countries interests.
His remarks came as he met Saturday evening the American Ambassador to the Republic of Yemen Christopher Henzel.
During the session they discussed a range of significant topics relating to the developments in Yemen including ongoing Houthi militia's military escalations and war against the Yemeni people, besides its recurrent attacks on the neighboring countries.
President Hadi restated that peace is very important, reiterated his support for peace efforts to make sustainable peace that is based on the initiatives and resolutions in relevance.
The US Ambassador congratulated President Hadi on his successful medication visit to the USA, affirming the US support for President Hadi's efforts aiming to achieve security and stability in Yemen as this is very important for the region's and world's security and stability.
Mr Henzel confirmed his country's support for a united, secure and stable Yemen and for further boosting aspects of cooperation between the two countries to counter risks, challenges and terrorism.
Director of the Presidency Office Dr. Abdullah al-Alimi was in attendance.