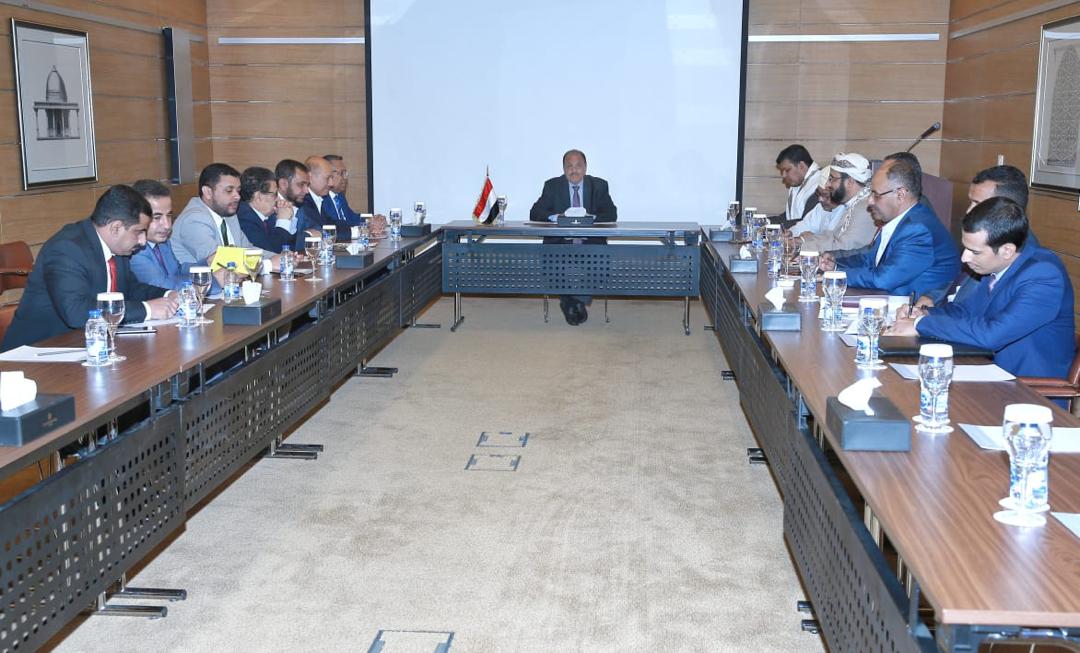 RIYADH-SABA
Vice President Ali Mohsen Saleh, along with Prime Minister Ahmad bin-Daghr, discussed on Wednesday with leaders of political parties latest political developments in the country.
Vice President confirmed the significance of the national role of the political parties towards current incidents in different political, economic and military levels and providing visions and prospects for the return of the legality(to Aden,)protecting national gains and commencing build of the federal Yemen of six regions.
He pointed out that all Yemeni people receive their strength from the legality of President Hadi, which gets national, regional and international support. He stressed strong position for facing Iran-backed Houthi militia and its practices against Yemeni people for rooting their sectarian thoughts aiming at ending democracy and the republic.
For his part, Prime Minister talked about efforts of the government on alleviating suffering of the Yemeni people, limiting local currency's deterioration and realizing security and stability.
He highlighted efforts of political parties and social organizations to overcome the situation caused by the coup.
The political parties renewed their position supporting efforts of legality and support to President Hadi's speech he delivered before the UN General Assembly, which was clear and strong on tackling all political, military, security, economic and political issues, including the project of the federal state.
The political parties renewed rejection of all sectarian and regional calls, including recent release issued by the so-called Southern Transitional Council.
The parties pointed out the key solution of all problems is ending Houthi coup and implementing the references agreed upon by all Yemeni people; the GCC Initiative, the outcomes of the National Dialogue Conference and UN Resolution 2216.
The leaders of political parties called on the International Community for tacking serious position for implementing the international resolutions and ending Houthi stubbornness.
The parties confirmed quick declaration of the National Alliance for the Political Parties for activating the role of political parties and be active partner in the political process and the battle for regaining the state.