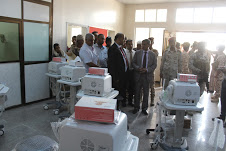 MUKALLA-SABA
Governor of Hadhramout, the Commander of the Second Military Zone General Faraj al-Bahsani launched on Wednesday distribution equipment to health centers across the Coast of Hadhramout.
Governor al-Bahsani was briefed by Director of Public Health and Population Office here Riyadh al-Jariri on the project which includes 19 ultra sound appliances and other medical equipment have been provided by the World Bank under the supervision of UNICEF.
Al-Bahsani valued efforts exerted by the health office for promoting the service under current difficult conditions the country has been going through.