[30/07/2022 02:43]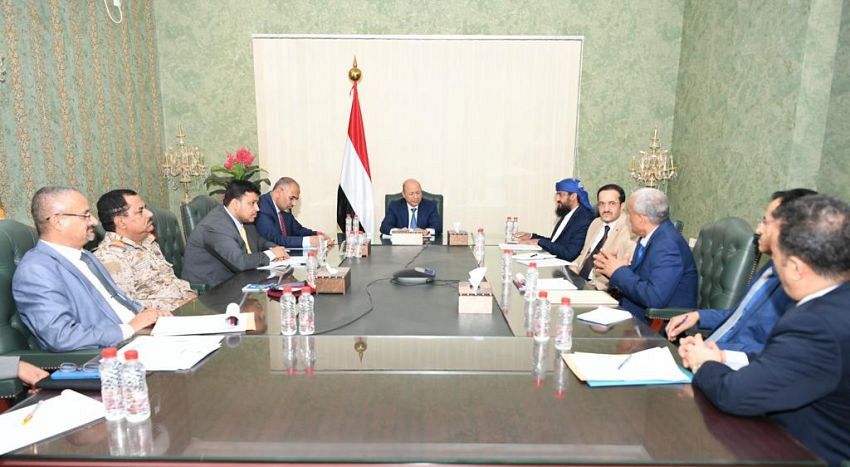 Aden – Saba
The Presidential Leadership Council held a meeting chaired by His Excellency President Dr. Rashad Muhammad Al-Alimi and in the presence of its members, Aidarous Al-Zubaidi, Abdul Rahman Al-Muharrami, Dr. Abdullah Al-Alimi, Othman Majali, and via video communication, Sultan Al-Arada, and Tariq Saleh, while the Council member Faraj Al-Bahsani was absent with an excuse..

The Council continued to discuss the latest developments in the local situation, and the institutional and administrative reforms required in some governorates and sovereign institutions. In this context, the Presidential Council heard a briefing from the Chairman of the Military and Security Committee, Major General Haitham Qassem Taher, on the initial results of the work of the joint committee and the steps included in its tasks in order to achieve security and stability, and to ensure the integration of the armed and security forces under a unified national command structure.

The Council was also briefed by Foreign Minister Dr. Ahmed bin Mubarak, on a letter submitted by the United Nations Special Envoy, Hans Grundberg, on the armistice and the proposed framework for its extension, in light of the intransigence of the Houthi militias to fulfill their obligations under the armistice declaration, and their violations, and their continuous violations on various fronts.


---

Brig. Bashir Saif Ghobair appointed as Commander of the Homeland Shield Forces

A decree by Chairman of the Presidential Leadership Council about establishing homeland shield forces

Board of Directors of Central Bank of Yemen Calls on Government to Keep on Economic, Financial Reforms

Planning Minister meets new Resident Representative of the UNDP in Yemen

Consultation and Reconciliation Commission stresses on adherence to declaration of power transfer

President al-Alimi returns to Aden

Shujaadin seeks IAEA's collaboration with Yemen

Social Affairs Minister meets with his Emirati, Libyan counterparts

BinMubarak, German official explore peace prospects

Al-Erradah, Military advisor of UN's envoy discuss the Terrorist Houthi militias' escalation