[12/06/2022 02:03]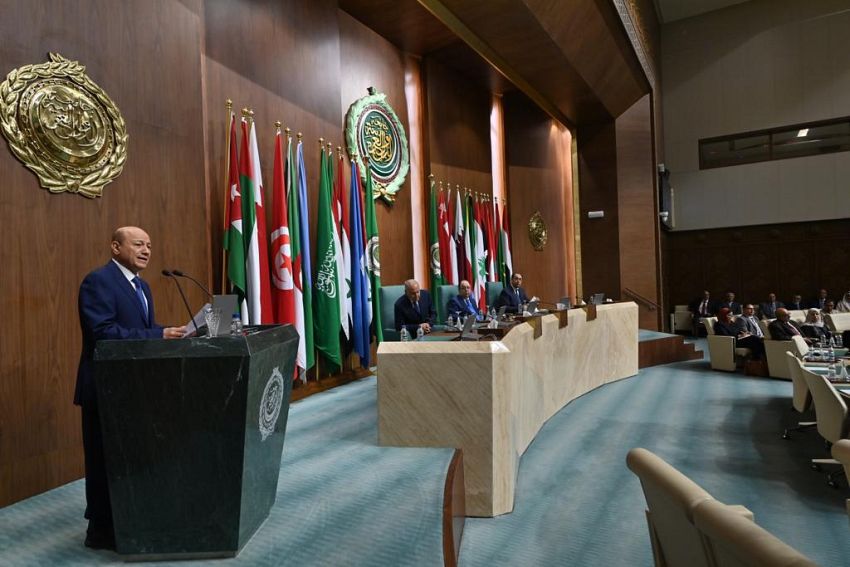 CAIRO - SABA
His Excellency President Rashad al-Alimi, Chairman of the Presidential Leadership Council (PLC) has called for an effective Arab role in defending Arab nation's interests, first and foremost, advocating the Yemeni peoples' rights to restore their own state and eliminate Iran-backed Houthi militia's coup.

He praised the significant role of Arab League (AL) and its united stance in support of Yemen and its fair causes.

Speaking at AL's ceremonial session held today with the presence of the AL's Secretary General Ahmed Abu al-Ghait, President al-Alimi underscored the important role of regional organizations, above all AL and the GCC in making peace and defending our peoples' interests in collaboration with the UN and international community.

The President expressed his hopes for mounting pressures upon Houthi militia to fulfill its obligations under the UN-brokered truce agreement including opening passageways of Taiz and other cities, rescuing Safer Oil Tanker to prevent unaffordable environmental disaster in the Red Sea, release the prisoners and detainees and pay salaries of the employees in the militia-controlled regions.

He pointed out to the high costs of the ongoing war that Houthi militia has been waging for the eighth year and lethal risks of the Iranian' support for this rogue group to threaten to the region's security and international maritime shipping lines in one of the world's most important shipping line.

He said" The continuation of the cross-borders attacks constitute the most dangerous threat to the global energy supplies from the neighboring countries that have been very keen on maintaining Yemen's security, stability, ending its peoples' suffering".

His Excellency warned that " the overt collaboration between Iran's agents and the terrorist organizations in Yemen forebodes a new wave of the attacks and destruction, particularity, following the militia has released a number of prisoners were indicted of terrorist cases".

The Chairman of the PLC commended the AL's decision about blacklisting Houthi group as a terrorist "organization", urging Arab countries to put this decision into its effect urgently to deter the militia's gruesome violations against the Yemeni people.


---

Brig. Bashir Saif Ghobair appointed as Commander of the Homeland Shield Forces

A decree by Chairman of the Presidential Leadership Council about establishing homeland shield forces

President al-Alimi returns to Aden

President al-Alimi congratulates his Indian counterpart on the Republic Day of India

President al-Alimi congratulates Australian Governor on National Day

President al-Alimi congratulates Iraqi president on winning Gulf Cup

Leadership Council president stresses need to correct erroneous narratives regarding Yemeni issue

President al-Alimi receives governor of al-Mahrah

President al-Alimi receives al-Ahmar family

President al-Alimi appreciates UK's efforts to alleviate humanitarian suffering, push peace