[31/05/2022 02:50]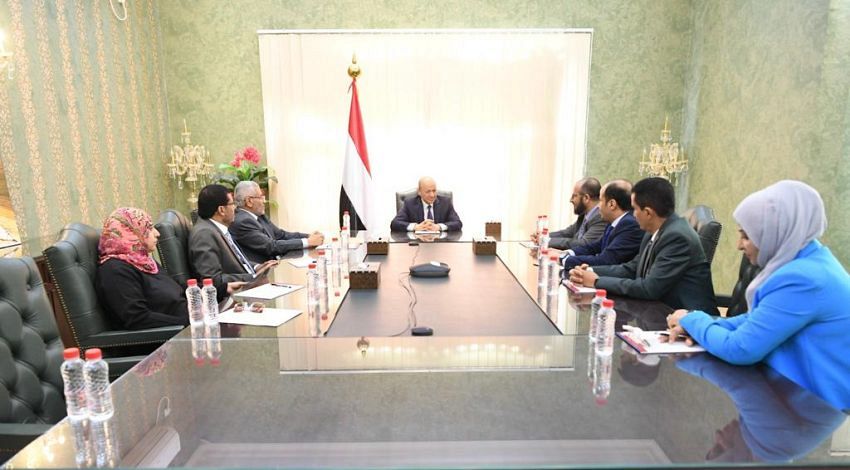 ADEN-SABA
His Excellency, President Rashad al-Alimi, Head of the Presidential Leadership Council (PLC) received today, Tuesday, the draft of the controlling rules of the PLC's actions, the Consultations and Reconciliation Commission (CRC) and the Two Legal and Economic Teams in pursuant to the third article of the declaration of power transfer in the country.

The third article of the delectation of power transfer states that a legal team of consist of specialists in law shall be created to write down the draft of the guiding rules of the PLC's actions, the CRC's and the two legal and economic teams' actions. The article states that the draft shall be submitted to the Head of the PLC to approve it and get it officially issued.

Judge Hommod al-Hitar, the Acting-Chair of the Legal Team along with the Team's members Mohammed al-Amiri, Ahmed Arman, Nehal al-Awlaqi, Ahmed Atiah, Mohammed Saleh and Nabilah al-Hakimi delivered the draft to the President Al-Alimi.

The President appreciated the efforts made by the legal team to come up with the draft which once it endorsed will constitute an additional legislative reference for the PLC's actions to move forward to achieve the Yemeni peoples' aspirations for enforcing the rule of law, protect the wide- national alignment to restore the state and establish peace in Yemen.


---

Brig. Bashir Saif Ghobair appointed as Commander of the Homeland Shield Forces

A decree by Chairman of the Presidential Leadership Council about establishing homeland shield forces

President al-Alimi returns to Aden

President al-Alimi congratulates his Indian counterpart on the Republic Day of India

President al-Alimi congratulates Australian Governor on National Day

President al-Alimi congratulates Iraqi president on winning Gulf Cup

Leadership Council president stresses need to correct erroneous narratives regarding Yemeni issue

President al-Alimi receives governor of al-Mahrah

President al-Alimi receives al-Ahmar family

President al-Alimi appreciates UK's efforts to alleviate humanitarian suffering, push peace