[11/02/2018 01:51]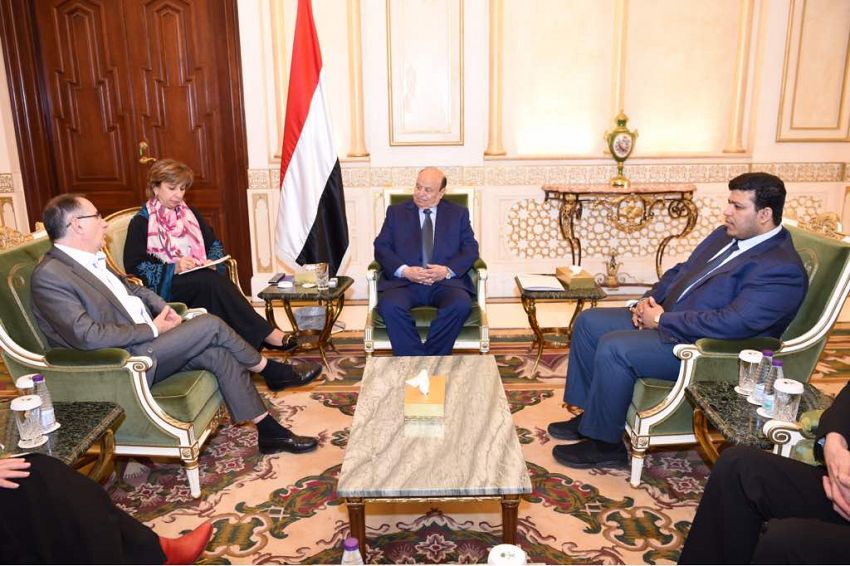 RIYADH-SABA

President Abd-Rabbu Mansout Hadi received Sunday Chairman of the Yemeni-French Friendship Committee in the French House of Senates Michel Emil and two members of House. French ambassador to our country Christian Tito was in presence as well.

During the meeting President Hadi talked about the distinguished Yemeni-French relations that are based on cooperation to serve mutual interests of the two friendly countries. He indicated that Yemeni-French Friendship Committee in the House of Senates has a significant role to play in supporting Yemen to cope with the challenges it has been struggling with because of the war.

The President detailed the French Senators on the situations in Yemen and the latest developments about the ongoing conflict and its implications upon the country at present and in the future. He stated that there is no way to get out of current dilemma but to make peace and re-establish security and stability on the basis of GCC's-brokered deal and its operational mechanism, outcomes of the National Dialogue and International Security Council resolution 2216.

President Hadi underlined the importance of French condemnation of the violations committed by Houthi militia against the civilians in the regions under militia control, mainly in the province of Taiz. He also blamed Iranian regime for its unacceptable interferences in Yemen and the region that fuels conflicts and sectarian wars to serve it own expansion schemes in the region.

The President urged the members of the French House of Senates to play their role in activating cooperation between Yemen and Total including Total's obligations toward Yemen in light of current circumstances.

The members of French House of Senates expressed their sympathy with the Yemeni people who have been enduring hardships and difficulties as a result of the war.




---

resident al-Alimi congratulates Italian President on his country's National Day

President al-Alimi receives American Ambassador

Leadership Council chair praises GCC for supporting Yemen and its just cause

President al-Alimi congratulates Turkish president on winning elections

President al-Alimi convenes high-profile meeting includes Speakers of Parliament, Shura Council

President al-Alimi praises UK's support for the Yemeni people

President al-Alimi receives Ambassador of the People's Republic of China

President al-Alimi discusses with UAE President latest developments in Yemen

President al-Alimi arrives in Abu Dhabi

Presidential Leadership Council holds session to discuss developments in the country