[31/12/2021 08:47]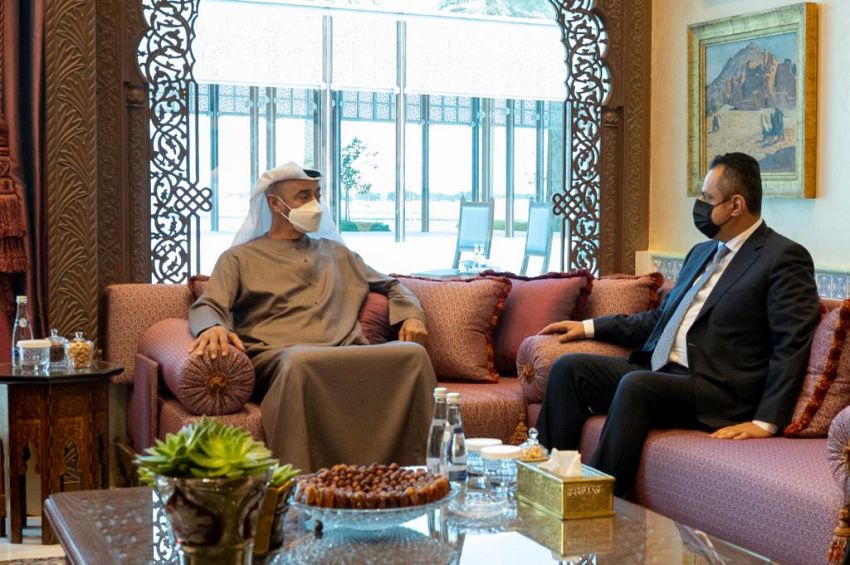 ABU DHABI- SABA
Official Yemeni-Emirati talks held today here in Abu Dhabia co-chaired by Prime Minister Dr. Ma'een Abdulmalik and Crown Prince of Abu Dhabia, Deputy Commander-in-Chief of the Armed Forces His Highness Sheikh Mohammed bin Zayed al-Nahyan.

The talks covered a range of topical issues and latest developments in the Yemeni national arena including the ongoing battles against Houthi militias' rebels, the efforts to get Riyadh Agreement implemented in full to unify the national ranks to eliminate Houthi militia's coup, restore the official authority and the Emirati expected role in sustaining the Yemeni government's efforts to achieve the urgently needed economic stability.

The two sides have demonstrated mutual keenness to support the Yemeni government's efforts and action in the temporary capital Aden to do its job. The two sides have agreed to boost coordination and cooperation about a number of files within the framework of the Emirati principled stance in support of the legitimate Yemeni leadership and people.

The Prime Minister detailed the Crown Prince of Abu Dhabi on the government's plans and measures aiming to manage the economic hardships, carry out the needed financial and managerial reforms and the ongoing efforts to get Riyadh Agreement implementation accomplished, citing the challenges and obstacles it has been facing and the needed support by brothers and friends at this critical stage.

For His part Sheikh Mohammed bin Zayed affirmed that the UAE is very keen to pursue its support for Yemen to achieve the Yemeni peoples' interest, re-establish security and stability in Yemen.

He reiterated the UEA's commitment to stand with the Yemeni peoples and support their aspirations for development, security and peace.

Minister of Agriculture and Fishery Salim Assocatri and Minister of Public Health and Population Dr. Qasem Bahebeh and Yemen's Ambassador to the UAE Fahd al-Minhali were in attendance.

From the Emirati side the attendees were Deputy Primeir, Minister of Presidency Affairs His Highness Sheikh Mansour bin Zayed al-Nayhan, His Highness Shkeik Hamdan bin Mohammed bin Zayed, the Advisor of the Private Affairs in the Ministry of the Presidency Affairs Sheikh Mohammed bin Hamad bin Tahnoon and the Emirati Ambassador to Yemen Salim al-Ghafli.


---

Yemenia Airlines calls on Houthis to lift restrictions on over $80 million of the company's balances in Sana'a

Emergency vaccination campaign in Marib targets 93 thousand children

Security Council's members renew support to UN Envoy for peace in Yemen

Jawf Governor discusses with Dutch diplomat displaced people's needs

President al-Alimi congratulates on anniversary of establishing China

President al-Alimi sends letter to UAE President

Chief of Staff discusses with US Ambassador aspects of military and security cooperation

Human Rights calls Intl. Community to take serious action against Houthi crimes

Erada and Bin Nahid lay foundation stone for completing Marib International Airport project

New IDPs camp inaugurated and alternative classrooms distribute in Marib at a cost of $406,000