[14/10/2021 06:15]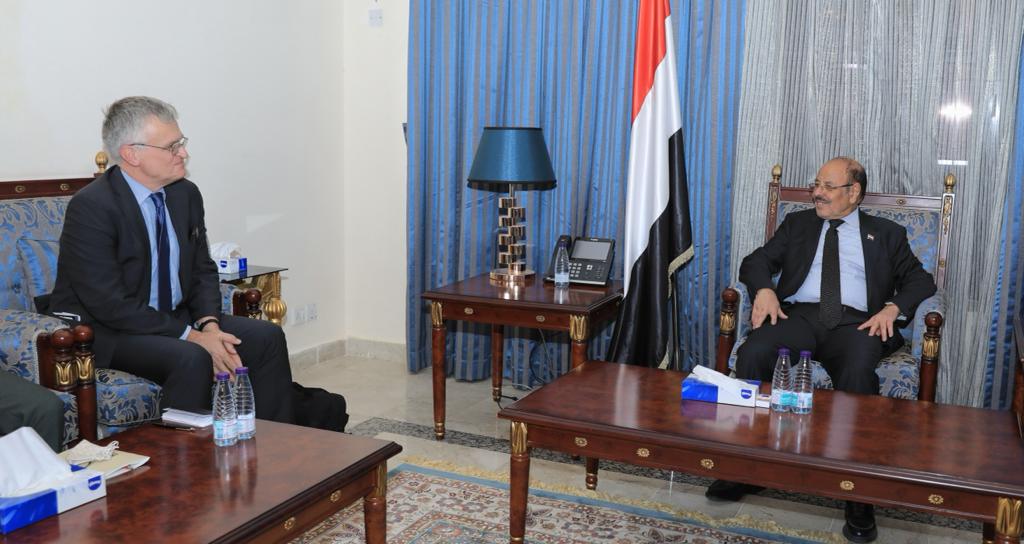 RIYADH - SABA
Vice President Ali Mohsen Saleh discussed Thursday with the Special Envoy of Sweden to Yemen Peter Semneby latest national developments and mutual relations between the two countries.

Vice President praised Kingdom of Sweden's role supporting Yemen and efforts of realizing peace in the country, reconfirming Yemen's support to UN efforts to realize inclusive peace on the bases of the three references; the GCC Initiative, the outcomes of the National Dialogue Conference and Security Council's Resolution 2216.

He touched upon the reveres results of Stockholm Agreement after Houthi militia's breached the agreement and neglected it totally and uses it as protection to them to mobilize and escalate in other areas, committing war crimes against Yemeni people in different warfronts.

Despite all these Houthi violations and crimes after signing the agreement, the international community has not committed to its role in monitoring and controlling implementation of the agreement to be a right step towards permanent peace Yemeni people hope to realize, said Vice President.

He pointed out to Houthi barbaric siege on al-Abdia District in Marib making more than 35000 people vulnerable to death of hanger and continuous attacks.

For his part, the Swedish Envoy confirmed his country's support to Yemen and support to UN efforts aiming at realizing peace in Yemen, pointing out to his country's role in humanitarian field in Yemen.


---

Foreign Ministry condemns launch of a ballistic missile by the Houthi militia towards Riyadh

Yemen company discusses resumption of gas project

Republican decree reshuffling CBY's board issued

Republican Decree appoints vice finance minister issued

PM chairs meeting over price hikes

Miftah launches food assistances to new displaced people in Marib

PM chairs meeting with CBY, Bankers Association

National Enquiry Commission documents violations that affected civilians in Hays district

Yemen chairs the meeting of the Council of Arab Justice Ministers

Civilian injured in Houthi missile attack on a Marib neighborhood