[20/09/2020 02:36]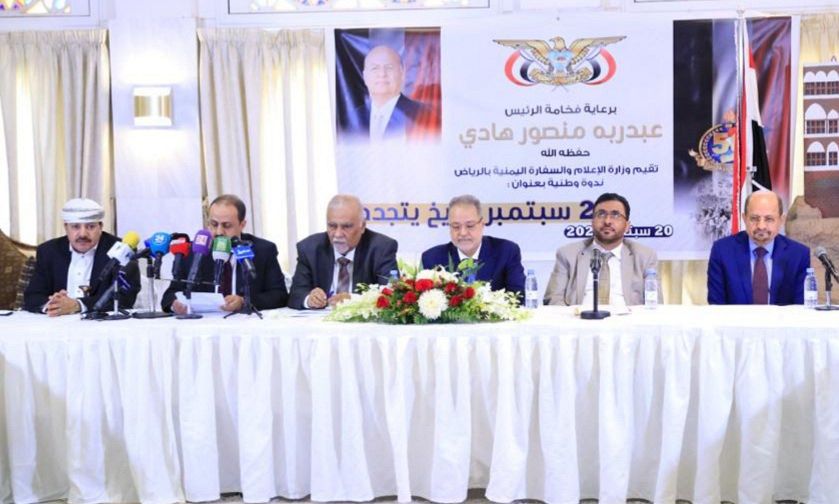 RIYADH - SABA
The theocratic imamate notion had proved to be the most formidable challenge Yemeni people had to face throughout Yemen's Islamic history.

"It is a racist-sectarian doctrine had always been divisive, promoting warfare and violence culture, say a number of Yemeni leading politicians and intellectuals contributed to a seminar organized Sunday in Riyadh.

The event aimed to commemorate the 58th Anniversary of the 26 of September Yemeni Revolution against the Imamate despotic regime in 1962.

The President's advisor Dr. Abdulmalik al-Mikhlafi, former foreign minister argued that the 26th of September revolution was one of the world's most important revolutions. He described Houthi rebels movement as the new imamate.

" To defeat the new imamates "Houthis", we have to invoke the spirit of the 26 of September revolution" said al-Mikhlafi.

The Minister of Information in the caretaker government Muamer al-Iryani labeled the imamate regime as the worst that Yemeni people have ever experienced in recent Yemen's history.

Yassin Makkawi, President Hadi's advisor urged the Yemeni people to join efforts and align behind the leadership of President Hadi to counter Houthi's coup, aggression and eliminate the imamate's divisive notion.

" Efforts need to be joined and ranks should be united to counter Houthis' coup and eliminate the imamate views which drag Yemeni into more violence and fragmentations, Makkawi said.



---

President al-Alimi returns to Aden

Shujaadin seeks IAEA's collaboration with Yemen

Social Affairs Minister meets with his Emirati, Libyan counterparts

BinMubarak, German official explore peace prospects

Al-Erradah, Military advisor of UN's envoy discuss the Terrorist Houthi militias' escalation

Minister of Youth meets with senior advisor of Norwegian Foreign Ministry

Planning minister meets delegation of the Ministry of Foreign Affairs and Commonwealth Affairs

Camp to Haima displaced people to be established in Khokha

Al-Eradah confers with Turkish Ambassador over developments in Yemen

Yemen's Ancient Kingdom of Saba added to UNESCO's World Heritage List