[16/09/2019 07:07]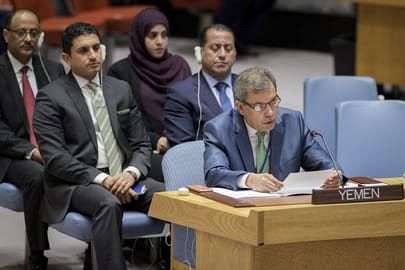 NEW YORK-SABA
Yemen's Permanent Representative to the United Nations Abdullah al-Sa'adi has said the recent developments in Aden and other southern provinces since UAE- backed Southern Transitional Council's armed rebellion on August 8 requires serious stance and transparent review for overcoming this obstacle and solving its reasons.

"These developments have led to deviation of the basic aim track for ending Iran-backed Houthi coup," said al-Sa'adi in Yemen's speech he delivered before the Security Council Monday.

He reviewed developments started on August, 8 when military groups of the so-called the transitional council attacked government forces and its camps and institutions in Aden, Abyan and Shabwareaching to the air raids carried out by UAE jets on August 28 against the national army.

He valued Saudi Arabia's position for rejecting recent escalation in the transitional capital Aden and some southern provinces. He confirmed government's support for Saudi call for dialogue for correcting peace track and not deviation from the Arab Coalition's aim of ending Houthi militia's coup against the state and facing Iranian interference in the region.

He pointed to Yemeni government's efforts for having inclusive political solution to the crisis based on the three agreed upon references; the GCC Initiative, the outcomes of the National Dialogue Conference and UN Resolution 2216 and government's full support to UN envoy's efforts for realizing permanent peace in Yemen.

He expressed worry towardsHouthi continuous mortar shelling on Hodeida districts, breaching ceasefire and snipping civilians, which is stark violation to international law and human rights law, stressing committing the militia to implement Stockholm Agreement and quick redeployment in Hodeida, as well as releasing all kidnapped people and prisoners and lifting their siege on Taiz City.

He criticizes international community's silence over Houthi rejection to allow UN expert to enter Hodeida for evaluating Safer Tanker, which contains 1.1 million barrel of oil crude, a mater threaten of environment catastrophe in the Red Sea.

Al-Sa'adi confirmed that Iran has caused huge damages in Yemen and the region and played sabotage role via arming and financing Houthi militia, who made some areas in Yemen as rocket launching-bud for threatening neighboring countries and international maritime navigation in the Red Sea.




---

Arman discusses with President of ICRC cooperation with Yemen's government

Ministry of Oil: The Houthi militia's correspondence companies are illegally invalid

Eryani condemns Houthi kidnapping of journalist Al-Jaradi

Yemen's national economy lost some $126 billion due to war, says senior official

Foreign Minister confers with European Union Ambassador over developments in Yemen

Al-Bahsani confirms significant role of consultation authority in unifying internal front

Ambassador Mujalli discusses with Polish minister wheat support to Yemen

Ambassador Mostafa informs European official on developments in Yemen

Yemeni government annual meetings with International Monetary Fund concluded

Yemeni-Cuban cooperation in health sector discussed