[04/07/2019 03:18]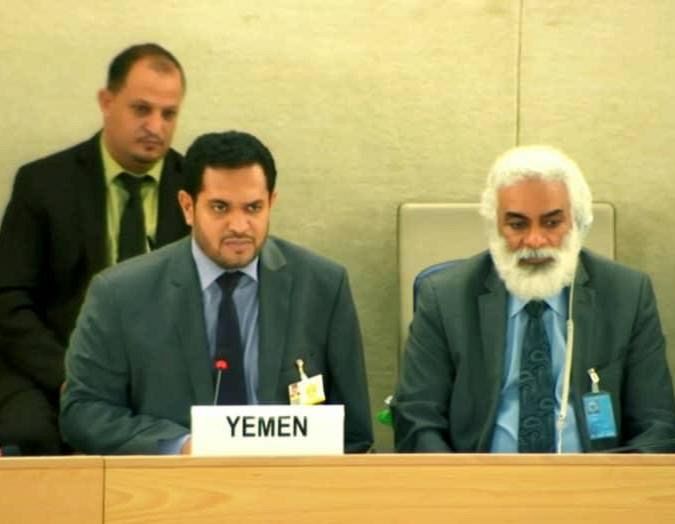 GENVEVA-SABA
Minister of Human Rights Mohammed Asker stated that the Yemeni government is very interested in improving human rights, to this end it has been very keen to react positively to everything may help boosting human rights; reiterating the government's recurrent calls for establishing peace in Yemen to ensure secure and normal living conditions for the Yemeni peoples.

As he delivered the Republic of Yemen's statement at Human Rights Council's session held in Geneva Thursday which devoted to review outcomes of the third round discussions about human rights in Yemen, Asker said the government is supporting the UN's efforts and its special envoy to Yemen Martin Griffiths to reach peaceful settlement.

The Minister called on Human Rights Council to support the Yemeni government's efforts to achieve peace. He also called on the International Community (IC) to ramp up pressure upon Iran-aligned Houthi militia to come to peace, impalement Stockholm Agreement and UNSCR 2216.

" We're looking forward to increase cooperation between the Yemeni government and the Human Rights Council, we do appreciate efforts made by the delegations who provided their recommendations about Yemen's report in the 32 session of the working group charged overall review in last January", said Asker.

The Minister added" The government will act on the recommendations it has received, it is going to urge the parliament to endorse draft bills about human rights including setting out legal age of marriage, countering enforced disappearances, human trafficking and laws about Yemen's joining to the protocols about prohibition torture, e.t.c."


---

FM: Evacuating all Yemeni citizens in Port Sudan evacuated

Arab-Chinese Forum puts emphasize on the unity, sovereignty and territorial integrity of Yemen

MASAM removes 875 Houthis-laid landmines in a week

Leadership Council chair praises GCC for supporting Yemen and its just cause

Higher Education Minister reviews with ILO implementing apprenticeship program

President al-Alimi convenes high-profile meeting includes Speakers of Parliament, Shura Council

Family killed and wounded as they drove over Houthi landmine in north Yemen

National Investigation Committee holds discussions with a team of Yemen Sanctions Panel

Eryani condemns Houthi storming of annual meeting of Baha'i sect and arrest of 17 participants

Dr. Abdullah al-Alimi praises American role in fighting terrorism, controlling weapons smuggling