[01/08/2018 01:48]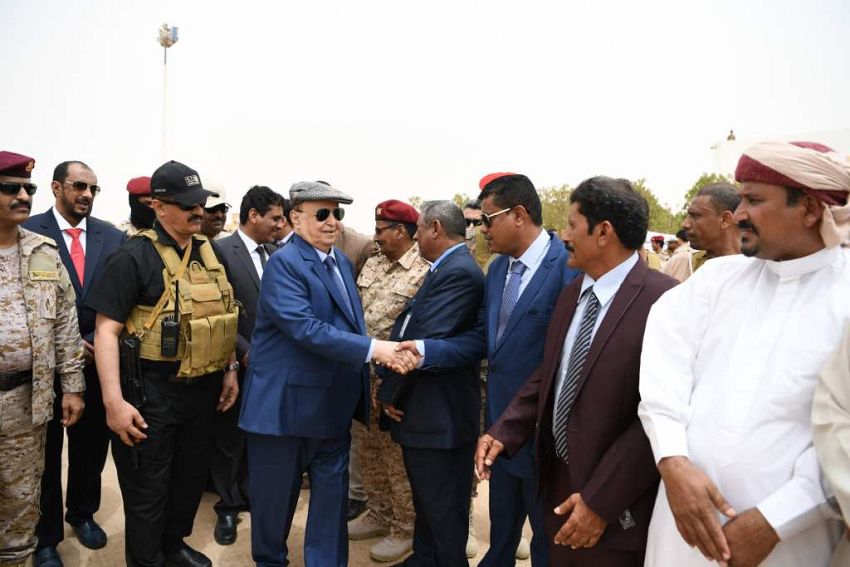 ALMAHARAH-SABA
President of the Republic Abd-Rabbu Mansour Hadi paid an inspection visit Wednesday to the province of Al-Maharah.

His field trip aimed to inspect the situations in the province and the populations' concerns and demands for developmental and services projects in different fields.

The President accorded a warm reception at Al-Ghaidha International airport where he was received by Governor of Al-Maharah Rajeh Bakrait, Minister of State Mohammed Kadah, members of Parliament and Shoura Councils and Saudi Ambassador to our country Mohammed Sa'eed Al-Jaber, social dignitaries, Sheikhs and senior officials and military commanders.
During his visit, the President along with the Saudi Ambassador to Yemen Mohammed Sa'eed Al-Jaber—the General Supervisor of the Saudi Reconstruction Program in Yemen--laid down foundation stones for several developmental and services projects to be funded by Kingdom of Saudi Arabia.

The projects included the University of Al-Maharah, Hosipital of Al-Maharah with total capacity 200 beds in the first phase, King Salman Medical and Educational City, Rehabilitating of Al-GHaidha's airport and Nashton's seaport, the project of Al-Maharah Electricity, the highways repairing project and Al-Maharah Water project.

Addressing large audience in the headquarters of local authority, President Hadi gave a keynote speech in which he expressed his pleasure to visit the province, laid down foundation stones for a package of projects.

He said" I'm very pleased to visit Al-Maharah province and meet with its kind people, I have confidence that Al-Maharha will move ahead to development, prosperity and coexistence".

He went on saying" Today we laid down foundation stones for a number of significant developmental and services projects funded by Kingdom of Saudi Arabia, it will be watershed in the development drive in the province".

" You know how did those criminal militia carried out a coup to thwart Yemenis' dream of establishing the new Yemen after the National Dialogue Conference in which the Yemenis of all political stripes and constituencies contributed to its discussions and come up with outcomes included the Yemenis' wisdom and solutions to their longstanding problems they have suffered for sixty years. They have agreed to end the killer centralization and establishing the new federal Yemen that is based on justice, equity, good governor and fair distribution of power and resources. But this Iran-backed malicious militia reneged against everything and brought the country into this difficult stage".

The President urged the population of Al-Maharh to work together for the interest of their province. " I'm speaking to you from heart, I clearly tell you maintain your province, its security and stability, cooperate and join efforts, don't leave a room for political and tribal differences and disputes".

He continued to say "Keep in mind that just few years ago the people of Al-Maharah were dreaming of running their own province by themselves or to be partners in building its future, today the dream has become a reality, don't waste what has been achieved and don't miss the chance for narrow-minded calculations. Put your personal interests and differences aside, you should never allow anybody to make your province a court for personal conflicts, you must stand alongside with the State's authorities and contribute toward establishing the order and the rule of law".

The President added saying" I'm honestly telling from Al-Maharah where I was among its people when the "Decisive Storm Operation" launched to declare that Arab Nation is capable of countering the Persian terrorist scheme which is an existential threat all Arabs' existence. I'm telling that Yemen with the Almighty Allah's providence is moving forward a well being, Yemenis' will is going to win over those criminal gangs and their sponsors, we'll gain victory and go on building the new federal Yemen from Al-Maharah to Sa'ada".

The President concluded his speech by reiterating thanks for the Saudi-led Arab Coalition for its support to Yemen.

The President accompanied by his adviser Yassin Makawee, Director of the President Office, Dr Abdullah Al-Alimi, Ministers of Public Health and Population Dr Nasser Ba-um, Minister Tourism Dr Mohamed Al-Qobati, Minister of Public Works Dr Ma'een Abduolmalik, Minister of Higher Education Dr Hussein Basalamah, Minister of Transport Saleh Al-Jabwani, Governor of the Yemeni Center Bank Dr Mohammed Zemam and deputy ministers of finance and electricity.


---

Arman discusses with UK diplomat promoting human rights cooperation

President al-Alimi comes back home after successful tour to the region

Cabinet welcomes Presidential Council's statement on absorption of brothers' aid

ISESCO inscribes four Yemeni sites on the Islamic World Heritage List

National Investigation Committee discusses with sanctions committee rights violations

Government signs MOU with Siemens Company to improve electricity in Yemen

Al-Eradah meets Mauritanian Justice Minister

Interior Minister discusses with UN humanitarian coordinator promoting cooperation

Ambassador al-Eradah discusses with Mauritanian oil minister Safir's developments

Presidential Leadership Council chairman congratulates US President on Independence Day