[17/07/2018 06:16]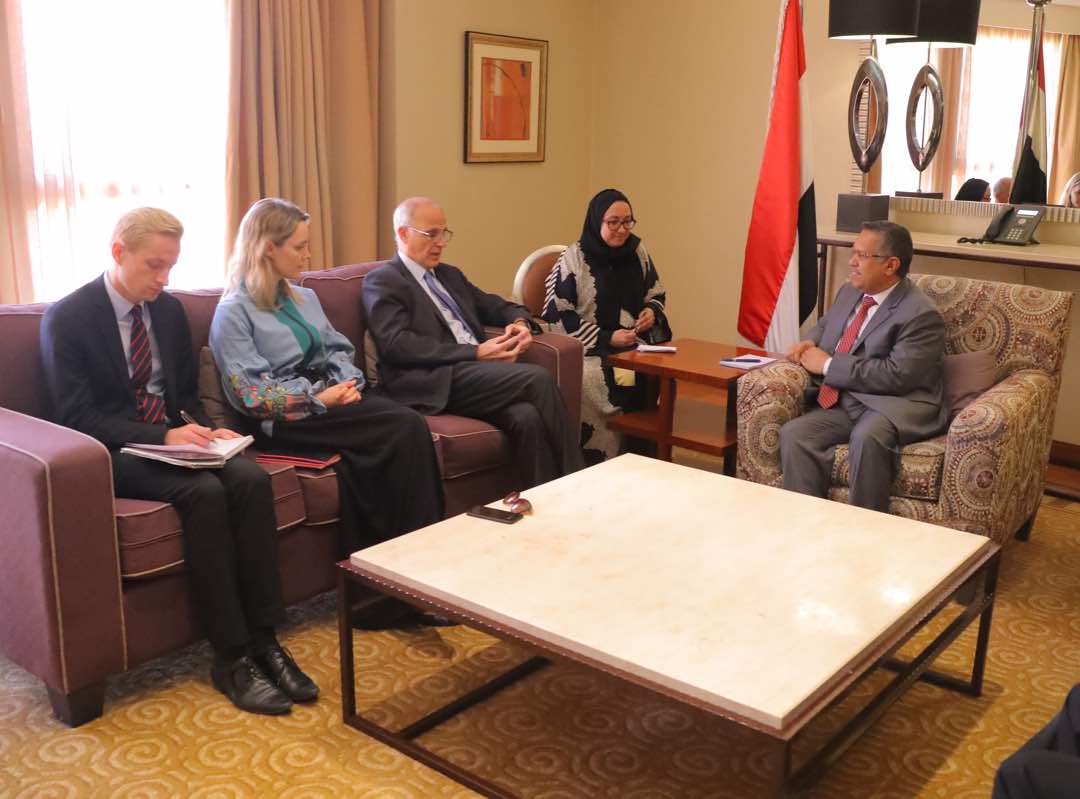 RIYADH-SABA
Prime Minister Ahmad Obeid bin-Daghr has emphasized importance of implementing the UN Security Council's Resolution 2216, which stipulates on withdrawal of Houthi militia from cities and handing over weapons.

The resolution also stipulates on releasing all prisoners and detainees, including Minister of Defense Mahmoud Assubaihi, General Naser Mansour, General Faisal Rajab and Mohammad Qahtan.

In a meeting with the Ambassador of the United Kingdom to Yemen Michael Aaron on Wednesday, Prime Minister confirmed deep-rooted relations between the two friendly countries, praising UK support to the legality and Yemeni people for rejecting the coup and regaining the state.

"The reasons of war in Yemen are clear and they are the coup against the legal authority and the national will and if we want to achieve peace, we have to inspect the core of the issue and tackle its reasons," said bin-Daghr, adding the international community must not allow a coup against the elected legality under the sponsorship of the UN in 2012 when people elected President Hadi a president to the republic.

"Houthi militia cannot rule Yemen and must be aware and understand this and the culture of the coups by the force of weapon and the myth of the God's right in rule are no more acceptable as the easiest way to the authority is the polling boxes," he said.

He pointed out that the government will provide full support to the UN Envoy Martin Griffith for the success of his duty for reaching just and inclusive peace in accordance with the three references; the GCC Initiative, the outcomes of the National Dialogue Conference and the UN Resolution 2216.

The meeting dealt with situations in the province of Hodeida and Tehama in general.

Prime Minister confirmed that the rebel militia works on hindering access to the humanitarian assistances and imposing a siege on Taiz city, as well as digging trenches, which is a clear prove on their unserious approach for peace.

He pointed out that Iran and Hezbollah's interferences and supporting Houthi militia with weapons and fighters are behind prolonging the war, demanding the international community to shoulder its responsibility, implement its resolutions and put an end to Iranian interferences in the regional in general and in Yemen in particular.

For his part, the UK diplomat expressed support of his country's government to Yemen, its unity and stability.

He renewed his country's support to peace process, reaching inclusive peace on the bases of the three references, more specifically the UN Resolution 2216.

He pointed to his awareness and understanding of dangers, which are showed by the legal government over existence of militias in cities.

He confirmed necessity of supporting efforts of the UN envoy to Yemen for realizing peace in Yemen.


---

Planning Minister discusses with IFC's Vice President supporting Yemen's private sector

Al-Eryani: Iranian statements confirms Marib's battle crucial

Arab Coalition announces targeting site for assembling booby-trapped boats in Hodeidah

PM calls on political constituencies to support government's efforts to manage challenges

KSA welcomes presidential statement issued by the Security Council

Al-Ashabi discusses with Pakistani official parliamentarian relations

Yemen welcomes UNSC's statement, reiterates its stance in support of peace

Miftah stresses re-organizing UN organization's works in Marib

Yemeni-Egyptian discussions over transport cooperation

Al-Maliki says the coalition carried out operation against Houthi military targets