[12/06/2018 07:40]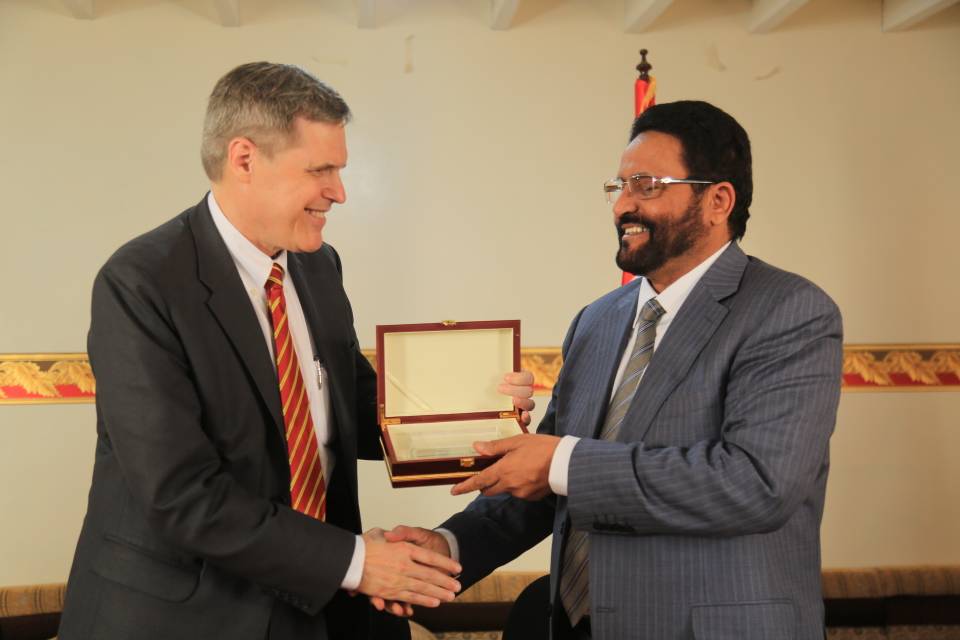 MARIB-SABA
The governor of Marib Maj. Gen. Sultan al-Arradah received here on Tuesday the US ambassador to Yemen Matthew H. Tueller. They discussed a number of issues concerning the efforts to achieve peace, restore the state and put an end to the

Houthi coup d'état, occupation of state institution and atrocities the rebels have been committing against the Yemeni people.

Al-Arradah said the US diplomat's visit " has its indications and entails several important things; it may push us all toward fruitful cooperation with a crucial country like the United States which has an international leverage and seeks to extricate Yemen out of the current crisis."

He said he is hopeful that Tueller will present the real picture of the the Yemeni people's suffering, a consequence of the war and the holocaust that the Houthi rebels have plunged Yemen into.

He affirmed that permanent and comprehensive peace in Yemen lies in the implementation of the locally and internationally agreed upon three terms of reference for peace; the GCC Initiative, the outcomes of the National Dialogue and the UN resolutions on Yemen mainly resolution no. 2216. He said that any settlement outside these references would only be false peace.

Tueller praised the improvement of life in the province and the high level of cooperation between Marib's senior officials, the government and the Arab Coalition leadership.

He affirmed the US people's stance by the side of the Yemeni people in these difficult circumstances and the US support to the internationally recognized government of President Abd-Rabbu Mansour Hadi.

He renewed the US commitment to establishing a permanent peace in Yemen as per the terms of reference.





---

Three civilians injured among them child by Houthis' drone assault in Marib

Defense Minister visits headquarters of Joint Forces Command in Jizan

Masam removes 1,201 Houthi landmines within a week

70 breaches on Saturday by Houthi militias against the UN-sponsored truce

Houthi militias blamed for 1432 breaches of the UN-brokered truce in Taiz

Up to 165 breaches of the UN-brokered truce by Houthis over past couple of days

Human Rights Ministry condemns Houthi militias' crimes against civilians

Chief of Staff discusses with ICRC delegate situations of kidnapped in militia's prisons

Yemeni Network for Rights condemns Houthi burning of African immigrants' tents

PM visits Aden Refineries and reviews the steps to implement plan to restart it