[23/04/2018 12:21]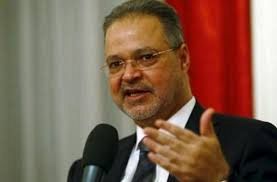 RIYADH-SABA
Deputy Foreign Minister, the Minister of Foreign Affairs Abdulmalik al-Mikhlafi has said the file of the kidnapped people and forcibly disappeared in Houthi detentions is on the top list of the government's priorities whether as humanitarian issue or in the framework of special efforts for reaching a political solution ending the coup and stopping the war.

"The issue of the Kidnapped and the forcibly disappeared people is humanitarian issue concerns all the human society, and what Houthi militia is doing is stark violation to all traditions and international charts and laws, let alone the Islamic Sharia, which ensured human rights in peace and war," said al-Mikhlafi in a letter he directed to the Mothers of Kidnapped People Association in its second ceremony of establishing it on Monday.

He made it clear that the government- during Biel and Kuwait talks - agreed on this issue and on all other humanitarian issues before talks on any political issues but the Houthis neglected these issues. Furthermore, the government worked on presenting this issue to all concerned organizations and bodies, including High Commission for Human Rights, the Human Rights Council and the International Committee for the Red Cross.

He confirmed that he worked with the government's team while presiding over the talks from the government party to make the issue on the top of the talks' agenda in Biel. He also pointed out that the file of the kidnapped has been presented by President Hadi to the new UN Secretary Envoy for Yemen Martin Griffith and also by him during recent meeting with him for resumption of the political talks.

He praised efforts of the Mothers of the kidnapped people for unearthing Houthi crimes, stressing on communication with the ministries of foreign affairs and human rights for integration on joint work.





---

Presidential Leadership Council confirms commitment to comprehensive sustainable peace, eliminate coup

Ambassador al-Ashabi receives Pakistani higher education official

Leadership of Consultations and Reconciliation Commission meets with France Ambassador

Two children killed, one injured by Houthis-laid landmine in Marib

Marib deputy governor Miftah lays foundation stone for oxygen plant

President al-Alimi receives an invitation from Algerian President to join Arab Summit

Arman discusses with President of ICRC cooperation with Yemen's government

Ministry of Oil: The Houthi militia's correspondence companies are illegally invalid

Eryani condemns Houthi kidnapping of journalist Al-Jaradi

Yemen's national economy lost some $126 billion due to war, says senior official