[19/03/2018 01:26]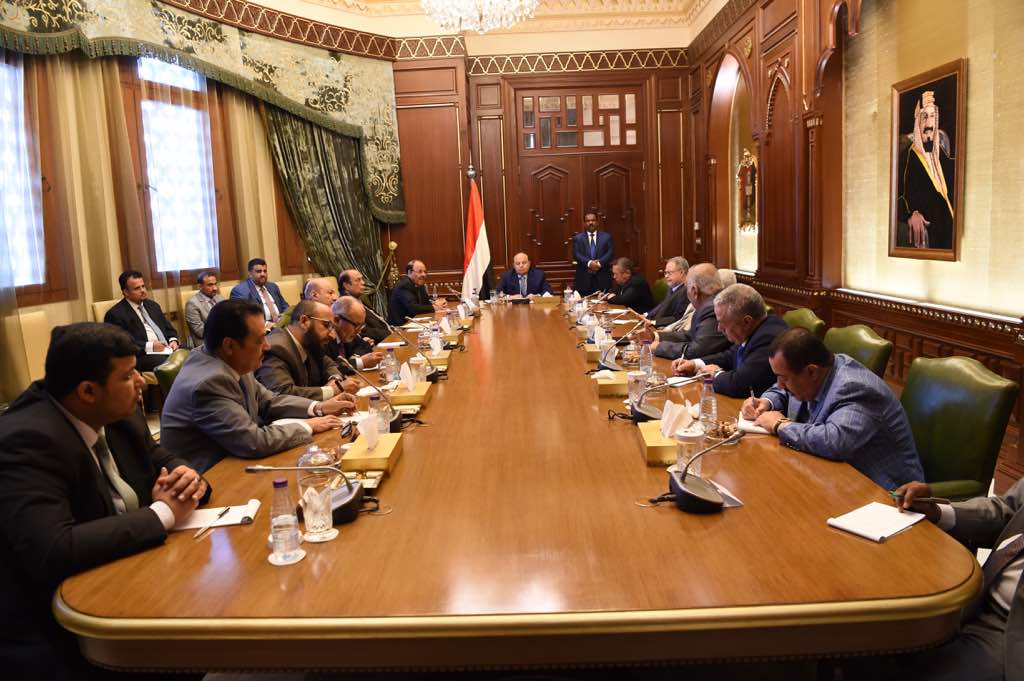 RIYADH-SABA
President Abdo-Rabbo Mansour Hadi met on Monday with his advisors and discussed with them situations in the homeland and latest developments.

Attended by his Vice Ali Mohsen and Prime Minister Ahmad Obeid bin-Daghr, the meeting dealt with efforts of the government for normalizing development and supply conditions and the Saudi financial deposit of USD 2 billon for reviving economy.

President Hadi confirmed Yemen's position supporting peace and the international legality's resolutions on Yemen led by UN Resolution 2216. He reviewed a number of concessions made by the government for the sake of peace in different talk stages for stopping bloodshed and realizing peace and Houthi militia stubbornness and rejection of peace efforts.

He also confirmed supporting UN Envoy's efforts and providing different forms of cooperation for easing his task for achieving peace on the bases of the three peace references; the Gulf Initiative, the outcomes of the National Dialogue Conference and the UN Resolution 2216.

"We feel the real situation of suffering faced by Yemeni people whether in liberated areas or in those still under the rebel militia over the war triggered by coupists on our society for serving foreign agendas of Iran, who uses their rebel hands for destabilizing the security of our neighbors, specifically Saudi Arabia," said President.

The meeting asserted confidence building and releasing prisoners and detainees, as well as stop firing ballistic rockets on Saudi Arabia.

Prime Minister bin-Daghr presented a review on efforts of the government and its field visits of people in Aden and other provinces for inspecting their needs.

The meeting tackled a number of issues in its agenda and issued necessary decisions.




---

Ambassador Mujalli confers with Polish official over Yemeni nationals trapped on borders with Belarus

Yemen participates in 34th session of the Council of Arab Transport Ministers

Samaritan Purse's interventions in Taiz discussed

Army liberates strategic sites in Marib

Marib Dep. Governor calls on relief organizations to aid thousands IDPs

Planning deputy minister launches training for surveyors of Food Security and Livelihoods Program

FM calls on IC to press for reaching political settlement

FM: Houthi escalation threatens peace process, exacerbates humanitarian crisis

Azendani, UNA Director discuss media cooperation

FM appreciates Polish support for Yemen