[28/02/2018 07:08]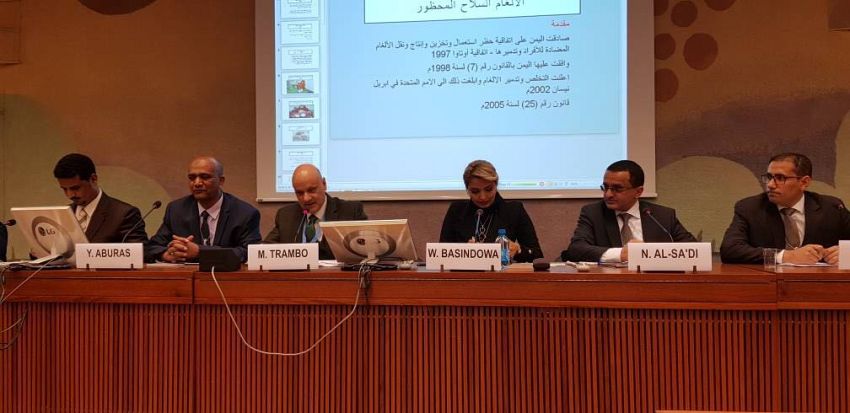 GENEVA-SABA
The Yemeni Coalition for Monitoring Human Rights Violations (YCMHRV) has documented the death of 189 persons by Houthi landmines in the period from April 2015 to the end of October 2017.

The YCMHRV unveiled this and other statistics in two reports it launched in a seminar held on the sideline of the UNHRC's 37th session in Geneva. The report indicated that 83 of the victims were killed by anti-vehicle landmines. The victims included 37 government soldiers, 31 children and nine women. The landmines maimed and disfigured 225 persons including soldiers, women and children.

Most of the victims are in Yemen's central Taiz city which is still sufferingHouthi attacks and scores of landmines posing a danger to the local population.

The report said the militiamen of the erstwhile Houthi-Salehalliance displaced 184 families from eight villages in al-Ashrooh of JabalHabashi district in Taiz.

Those families consist of 980 individuals including 451 children and 262 women. The impact of displacement was so life-changing on them as they were coerced to leave their houses without taking any of their luggage and they had to inflict themselves on other villages and live in abject poverty.

YCMHRV chairman Hamdan al-Ali said in a presentation to the seminar that Houthis' detonation of houses of oppositionists is a stark practice of coercive displacement and sectarian cleansing by the Iran-backed militia.



---

Defense Minister heads to UAE on an official visit

Parties to Ottawa Agreement on landmines agree to keep support to Yemen five year more

Yemen participates in OIC Standing Committee meeting in Istanbul 11/26/2022

Leadership Council member Brig. Tariq Saleh discusses conditions of Dhubab district

Chief of Staff discusses with Saudi Counterpart promoting military cooperation

Kuwaiti Najat Charity launches relief campaign to displaced people in Taiz

Finance minister emphasizes training customs senior agents

Justice Ministry participates in workshop on maritime security, cross-border crime

Presidential Leadership Council considers repercussions of Houthis' terrorist attacks

Presidential Council member discusses with Hadhramawt governor security plans