[27/02/2018 10:03]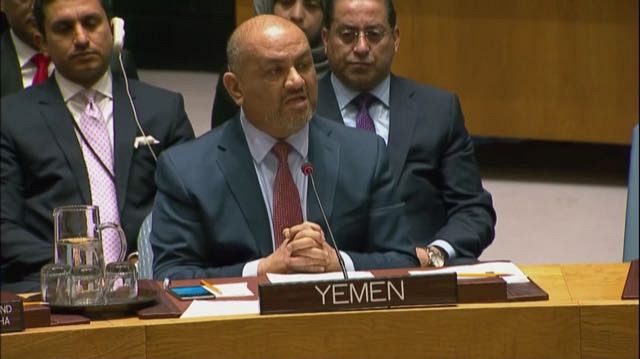 NY-SABA
Yemen has called on the new UN special envoy for the country Martin Griffiths to aim for Houthi compliance with the UN Security Council's resolutions and to make sure that the rebel militia do not get a rewardfor their crimesagainst humanity. So as not to set a precedent and give signal to armed militias around the world that they can undermine their governments and so for terrorism and lawlessness not to spread.

Yemen's Permanent Representative to the United Nations, Khaled Hussein Alyemany made remarks to this effect in a statement to the UN Security Council on Wednesday. He said that peace in Yemen is not achievable without the Houthi militia's withdrawing from the cities and state institutions it occupies; handing over of the weapons it had seized from the state military institutions; and stopping attacks against neighboring countries; exercising the powers of the government, and recruiting child fighters.

Alyemany said that he has repeated several times before the UN Security Council that Houthis would not stop their crimes by the brakes of reason, international humanitarian law or the human rights law. He said that the rebels think outside the legal limits and outside history, just the same as ISIL and al-Qaeda. He said they will not accept any lasting peace that restores the state. They are working as their masters in Tehran announce for destabilizing the whole region.

He told the UN Security Council that they had failed the day before to send clear messages to Iran that they will be held accountable for arming Houthis. This stark failure, he said, enticed Iran and its proxies in the region including Houthis in Yemen to pursue their crimes. He said the failure would embolden Houthis to commit more violence and go ahead with their ballistic missile attacks and to make more miseries.

He referred to the humanitarian suffering plaguing the country as a result of Houthis' insurgency. He said that people in Houthi-held areas suffer intimidation, starvation, black markets for basic commodities, recruitment of child fighters, among several abuses against the masses.


---

Appointing Faez Qahtan, Commander for Second Military Region

President meets with Parliament Speaker, MPs on latest developments

Ministry of Foreign Affairs receives copy of the credentials of the Libyan ambassador

Foreign ministry expresses solidarity with Saudi towards everything that threat its security

Presidential Council chair puts Yemeni people before the reality of the situation in Shabwa

PM confirms government's full support for the leadership of the new local authority in Hadramout

PM directs for immediate tackling to reduce the repercussions of flood on IDPs in Marib

Ambassador Mujalli discusses with Polish official agricultural support to Yemen

Foreign Minister meets President of the Jordanian Senate

Yemen, Jordan sign MOU on political consultation