[23/01/2018 01:57]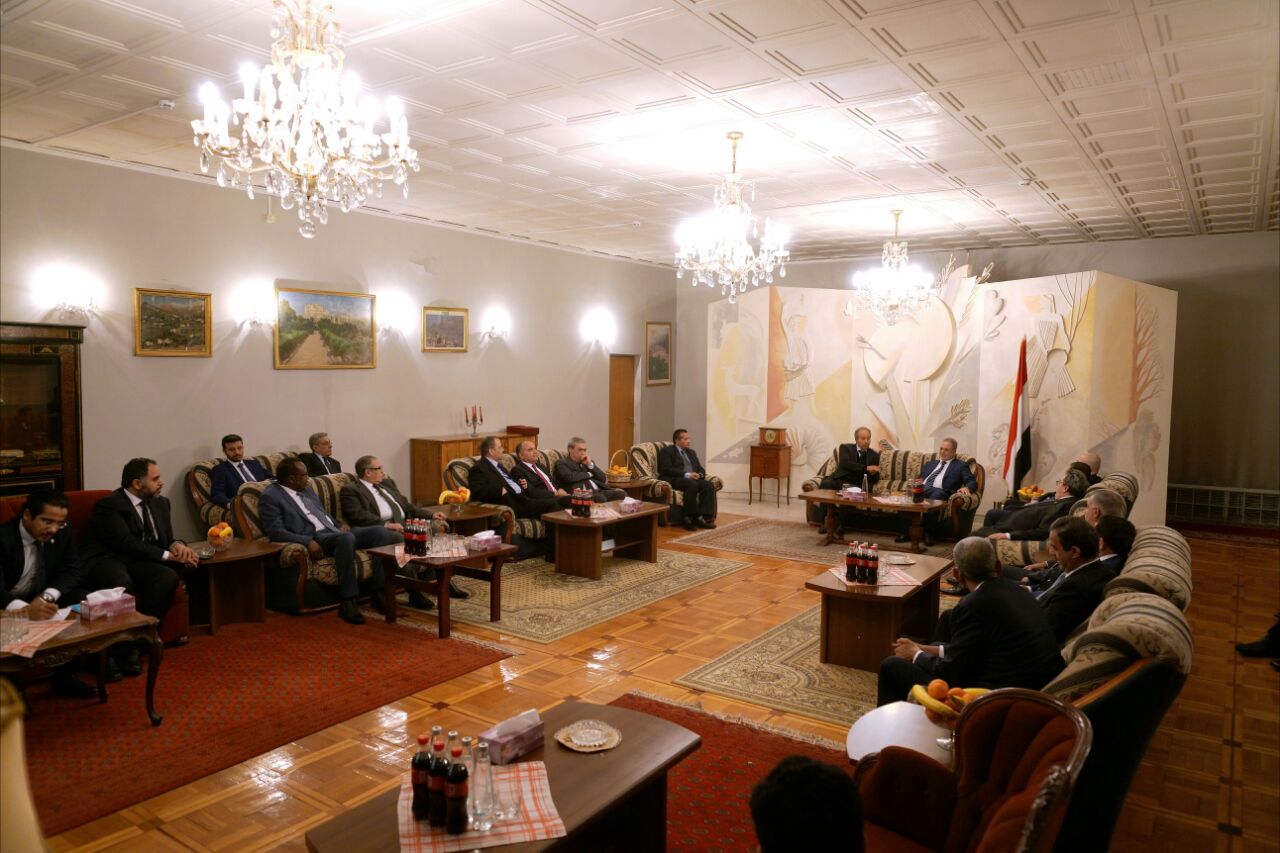 MOSCOW-SABA
Deputy Premiere, Foreign Minister Abdulmalik Al-Mikhlafi met on Tuesday, in the premises of the Yemeni embassy in Moscow with ambassadors of Arab countries to the friendly Russian Federation.

During the meeting Al-Mikhlafi talked about the latest developments in our country in light of Houthi militia's intransigence and their rejection to come to peace and put an end of the Yemeni peoples' torment caused by the militia's coup d'état against the state.

The Foreign Minister stressed that it is very important for Arab nations and international community to stand with the Yemeni government and support its efforts aiming to restore the state's institution and eliminate the coup.

The Foreign Minister briefed Arab ambassadors on his visit to the Russian Federation and successful talks with his Russian counterpart Sergey Lavrov.

Al-Mikhlafi said:" In our talks with the Russian side, we voiced appreciation of the Russian stance toward the Palestinian cause and Al-Quds' issue which is Yemen's and Arabs' number one and central cause in spite of the crisis and challenges we have facing in Yemen and several Arab countries".

Concerning to the Yemeni situation, Al-Mikhlafi has affirmed that peace has always been the government's option and was imposed upon us and on the Saudi-led Arab Coalition for restoring legality in Yemen." But what can we do with a bloody militia doesn't believe in dialogue nor peace, and constantly backed by the Iranian regime with weapons and expertise", said Al-Mikhlafi.

Arab ambassadors to Moscow have applauded the Foreign Ministers visit to Moscow, appreciated the Russian supportive stance in supporting the Yemeni legal government and supporting peace in Yemen on the three well known references.

Latest developments in Yemen and Arabs' issues were elaborately discussed by the Deputy Premier, Foreign Minister and Arab ambassadors.

Our country's ambassador to Moscow Dr Ahmed Al-Wohaishi attended the meeting.


---

Al-Ashabi discusses with Pakistani official parliamentarian relations

Yemen welcomes UNSC's statement, reiterates its stance in support of peace

Miftah stresses re-organizing UN organization's works in Marib

Yemeni-Egyptian discussions over transport cooperation

Al-Maliki says the coalition carried out operation against Houthi military targets

Saba explores collaboration with BTA

Ambassador Mujalli confers with Polish official over Yemeni nationals trapped on borders with Belarus

Yemen participates in 34th session of the Council of Arab Transport Ministers

Samaritan Purse's interventions in Taiz discussed

Army liberates strategic sites in Marib