[16/11/2017 06:51]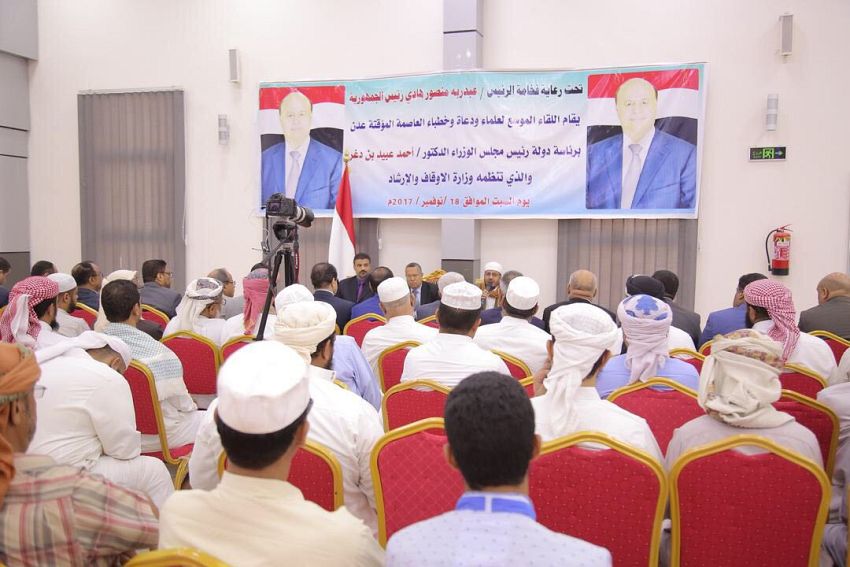 ADEN-SABA

Prime Minister Ahemd Obeid Bin-Dagher attended Saturdy a plenary meeting included mosques speakers and religious preachers in the interim capital Aden.

The gathering devoted to discuss role should be played by preachers and mosques' orators in promoting religious tolerance and moderate religious discourse in order to contribute toward countering radicalism and terrorism.

The meeting also highlighted lethal consequences of targeting preachers and pro-moderate religious rhetoric and views. Necessary measures shall be taken to protect preachers were touched upon as well.

The prime minister gave a word in which he underscored the need for joining efforts and wide-range alignment to cope with challenges we have been facing. He said:" It was good opportunity to address our Reverend preachers and clergies at this critical moment which requires a united alignment and stance that can better serve our country and people. We should work hard as a united team in order to effectively do our moral, religious and patriotic duties".

Bin-Dagher went on saying: "School, mosque, political party, individual and community all must be engaged and contribute toward managing the existential threat to the country and people. You, Reverend preachers still have a vital role to play so that you were targeted, some of you were killed and intimidated, however, we shouldn't be terrified as long as we are on the right path".

The prime minister touched upon terrorism plight of terrorism describing it as it has nothing to do with religion and it is an existential menace to our security and stability.

"We need to be careful and well aware of this alarming danger, we should align ourselves with the legal authority, particularly military and security institutions, this is only way can ensure protecting our country and people from violence, extremism and terrorism', said Bin-Dagher.

He noted that battle against terrorism is long, however we can manage it, if we act jointly, align ourselves with our military and security forces as well as legal authority apparatuses.

The prime minister came to say:" We have to gain a military victory and retaking capital Sana'a to crush Houthis muscle. This doesn't mean we want to annihilate anybody, but legal government needs to take control over all regions around the country. This is the genuine guarantor to re-establish peace, stability and development. If the coup militias continues to control any part of the country, it will keep on fueling radicalism, terrorism and destabilizing the country", said Bin-Dagher.

The prime minister warned of the existential threat of Parisian scheme Iran promotes in Arab region through fueling sectarian disputes so that I can erase Arab and Islam identity. He suggested that Houthis do serve as Iranian instrument in Yemen, but Saudi-led Arab Coalition intervention has curbed their proposal and dashed their dreams.

For his part, Minister of Endowments and Guidance Dr Ahmed Ataih urged preachers and mosques' orators to promote Islam's true instructions and values and help raising awareness of conservative and extremist doctrines of Islam.


---

Interior Minister discusses with UN humanitarian coordinator promoting cooperation

Ambassador al-Eradah discusses with Mauritanian oil minister Safir's developments

Presidential Leadership Council chairman congratulates US President on Independence Day

Chairman of Presidential Council sends congratulatory message to the President of Belarus

Al-Mahrami: We are ready to stop war if we find real partner in Sana'a

Mujalli: He who recruits children, brainwashes them with terrorism has no will for peace

FM discusses with Jordanian counterpart preparations for joint committee's meeting

Industry DM. calls businessmen to invest in home

Presidential Council member Tariq Saleh discusses security developments in Taiz axis

Civil Organization condemns Houthi bombing of homes in Amran