[22/10/2017 04:01]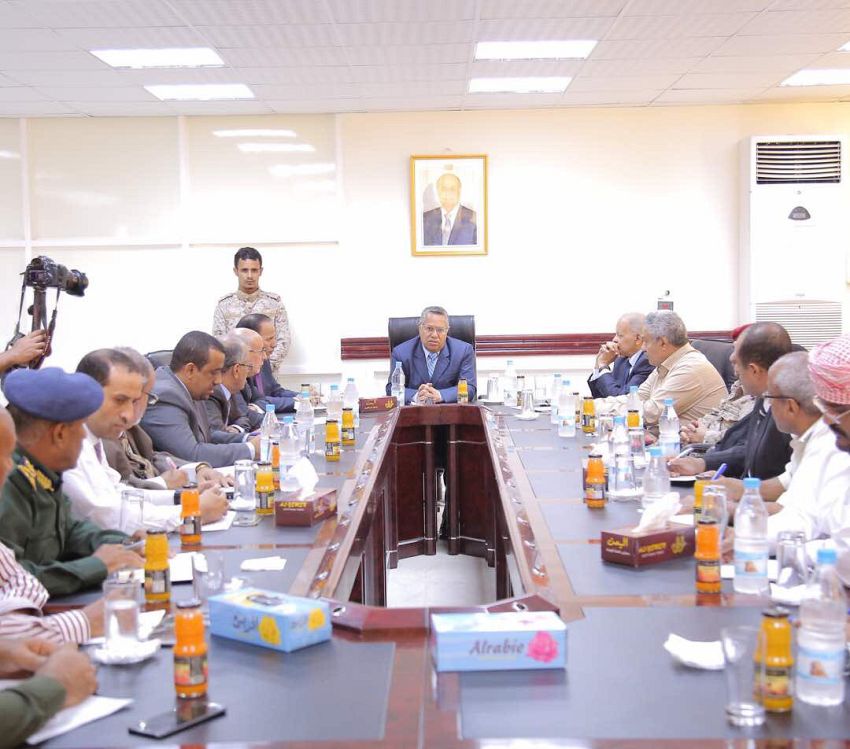 ADEN-SABA

Prime Minister Dr Ahmed Obeid Bin-Dagher stressed that government won't let national currency go down. Efforts will be devoted to boost the Yemeni rial value to prevent any economic upheavals, he stated.

Bin-Dhagher chaired an extraordinary meeting held in Aden Saturday brought together the management of the Central Bank of Yemen, managers of banks and exchange companies. The meeting aimed to discuss the devaluation of the Yemeni rial against foreign currencies and take necessary measures cope with the problem.

"Maintaining national currency's value is a common national responsibility falls upon the shoulders of public and private sectors", said the Prime Minister, adding that his government is going to take all legal actions that can help maintaining the national economy and protecting domestic market and peoples' living conditions from economic tumults.

Dr Bin-Dagher said:" Leaders of banking and financial sectors and businessmen ought to cooperate with the government to serve the national interest of the country. Any sabotage act such as running business exchange illegally that may badly affecting national currency must be stopped".

The Prime Minister urged businessmen leaders to act responsibly." You must give mind a room beside profit, help raising awareness about our key issue which is to defeat aggressors of Houthi and Saleh", he said.

Bin-Dagher continued to say "You shouldn't contribute to financing the war waging by the militias against the homeland". "Rial is our national currency from Sa'ada to Al-Mahara, a national fellow is badly affected all over the country, if rial's value devaluates. Nobody will be allowed to break the law"'., he added.

The acting governor of the Central Bank of Yemeni Ahmed Abu Baker said" Laws of the Yemeni central Bank of Yemen, Commercial Banks and Exchanges were laws in effects that governing the action of the Central Bank in Aden, these laws would strictly enforced and lawbreakers would be held accountable".

" We will work along with finance Ministry to open bank accounts for every government's employee as the employee may wish, salaries would be deposit in these accounts.", Abu Baker added.

It is worth mentioning that General Prosecution has ordered the law-enforcement authorities to bring lawbreakers to the courts.




---

Defense Minister heads to UAE on an official visit

Parties to Ottawa Agreement on landmines agree to keep support to Yemen five year more

Al-Bahssani urges military, security forces to get ready to protect economic facilities

Yemen participates in OIC Standing Committee meeting in Istanbul 11/26/2022

Leadership Council member Brig. Tariq Saleh discusses conditions of Dhubab district

Yemen chosen Vice President to MENAFATF

Al-Eryani receives chairman of German Parliament's Foreign Relations Committee

Mustafa participates in GCC Ambassadors' meeting in Brussels

Chief of Staff discusses with Saudi Counterpart promoting military cooperation

Kuwaiti Najat Charity launches relief campaign to displaced people in Taiz