[22/08/2017 02:00]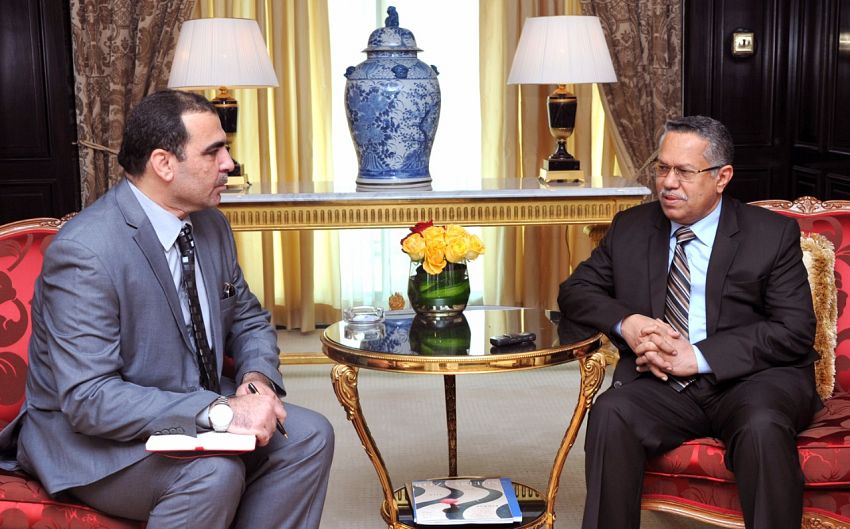 MANAMA-SABA

Yemen's Prime Minister Ahmed Obeid bin-Daghr said his government will continue working toward restoring stability to Sana'a and other provinces after driving out the Saleh-Houthi militias controlling them.

In an interview with the state news of the Kingdom of Bahrain, where is on an official visit these days, bin-Daghr said: "The Arabian Peninsula and the Arabian Gulf are capable of staying steadfast and defending their interests. No one can affect the Arabs from now on."

He added: "What is happening in Yemen was a clear message to Iran. It tried to play the sectarian contradiction game in Yemen, so that Arabs rushed all to defend Yemen and their interests. They can repeat that anywhere else [if needed]. Yemenis will be first to defend fellow Arabs anywhere needed."

The premier said that a quality advance has been achieved, with the Arab Coalition, in controlling security at the government's areas of control. This advance paved the road for driving out al-Qaeda remnants from Mukalla and coastl Hadhramout.

The premier called in all the national political actors to return to the national consensus and to renounce the regional powers that work to perpetuate Yemen's instability, on top of these powers is Iran.

He said that in the past, Yemen witnessed a period of extremism and terrorism; Al-Qaeda spread in a number of areas and took control of Mukalla and coastal Hadhramout.

A massive military operation with the participation of the Arab Coalition countries including Bahrain finally managed to drive the terrorists out.

The premier asserted the urgent need for a federal civil state with a new political system and re-arrangement of interests; a re-distribution of power and wealth in a fair manner.

The premier said that the Constitutional Commission had drafted a new constitution that provides for a state of six federal regions, only to be rejected by Houthi militant group who ignited the current conflict.

He said that there can be no discussion of development programs in Yemen while the conflict continues and terrorism continues. "Therefore security, law and order have to be restored first to the capital Sana'a. The rebel militias have to comply with the constitution. And [diehard dictator] Ali Abdullah Saleh has to understand that he cannot come back to rule Yemen again."

He said that his government managed to counter cholera in the areas within its control. "But things are very difficult where the rebels are in control, the areas that the international relief organizations always refer to," he said.

The rebels use the revenues of these areas to finance their war plans, he said. He added that the top rebel leaders are now millionaires by draining the money that should have been spent as public employee salaries and public healthcare expenses.


---

Al-Eradah confers with Swedish Envoy peace efforts, Houthis' escalation

Al-Zaori discusses with NDI joint cooperation issues

Prime Minister reiterates commitment of the government to peace approach

Leadership Council Chairman stresses private sector's leading role in development

Yemen expresses solidarity with bothers in Syria, Turkey over earthquake

Brig. Gen. Tariq Saleh orders speeding up operation of Internet services in liberated regions

Banaja: CBY grants 6 licenses to microfinance banks

Al-Eradah confers with Lenderking over developments in Yemen

Leadership Council Chairman receives German delegation

Resumption of international flights at Al-Rayyan Airport in Hadramout