[06/08/2017 12:35]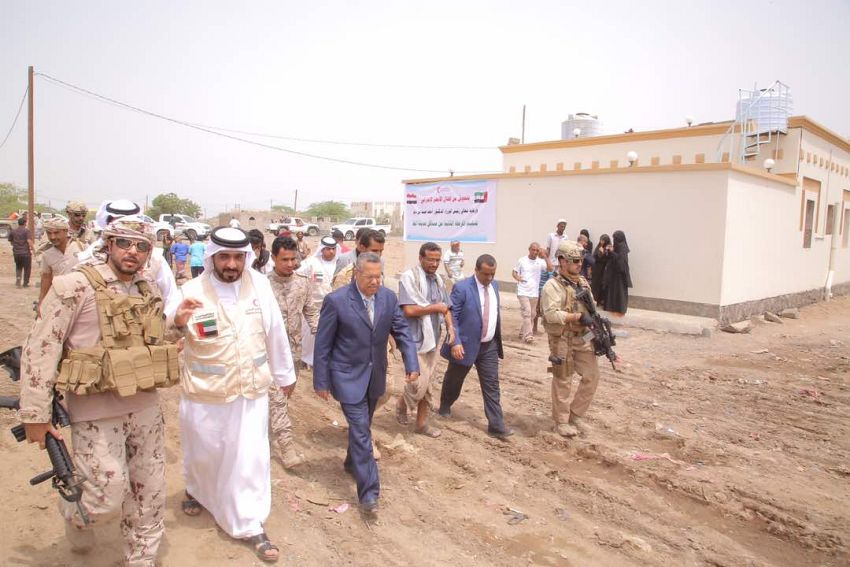 MOCHA-SABA
Prime Minister Ahmad Obeid bin-Daghr arrived Sunday Mocha coastal city at Taiz Governorate where he inspected security and service conditions in the city and listened to people concerns.

The visit comes in the framework of the government's care of liberated governorates, normalizing conditions and restoring the state institutions.

Bin-Daghr confirmed the government's plan on re-operating Mocha Port and improving its activities, as well as reconstructing the city, normalizing conditions and providing services to the people whodeterred Houthi-Saleh's aggression.

Prime Minister praised great sacrifices, which will be registered in the Yemeni history on Arab Coalition led by Saudi Arabia with active participation of the United Arab Emirates and other countries in the coalition, who defend Yemen and its legitimate authority againstHothi-Saleh's aggression on the state.

"The Firmness Military and Hope Restoration Storms are worth to be included in historical books and taught in schools and universities for they halted Iranian influence and danger on our Arab and Islamic Region and gathered Arab around one word and one position enabling them to gain the support of the whole world and resulted in a courageous decision unanimously approved; the UN Resolution 2216," said bin-Daghr.

He added that the frustrated and coward attempts by the rebel militias to target Mocha Port and threaten maritime navigation will be registered as failed and have already failed, adding these attempts hint to malicious spite of the militias' destructive plot to damage public interests.

He called on the International Community to stand firm and serious against Tehran that wants to destabilize world, Arab and regional security and stability and takes control of international outlets led by Bab al-Mandab.

"Peace and stability is the foundation of development in Yemen and we seek peace that respects the three references and legitimacy in Yemen and protect the republic and unity in its federal shape," Prime Minister bin-Daghr said.


---

PM visits Yemeni embassy in Doha

Government team, WB delegation discuss support for development, comprehensive reforms in Yemen

PM receives Kuwati Deputy Prime Minister, Minister of Oil

Deputy Planning Minister meets with Deputy Director of OCHA and head of Belgian MSF Yemen mission

Doha: Qatari PM receives Yemen's Prime Minister Dr. Maeen Abdulmalik

Yemen denounces terrorist attack on Turkish Security Directorate

PM arrives Doha in state visit to Qatar

Houthi militia bombard Yemen besieged city with artillery shells

Security Council's members renew support to UN Envoy for peace in Yemen

President al-Alimi congratulates on anniversary of establishing China