[12/04/2017 07:57]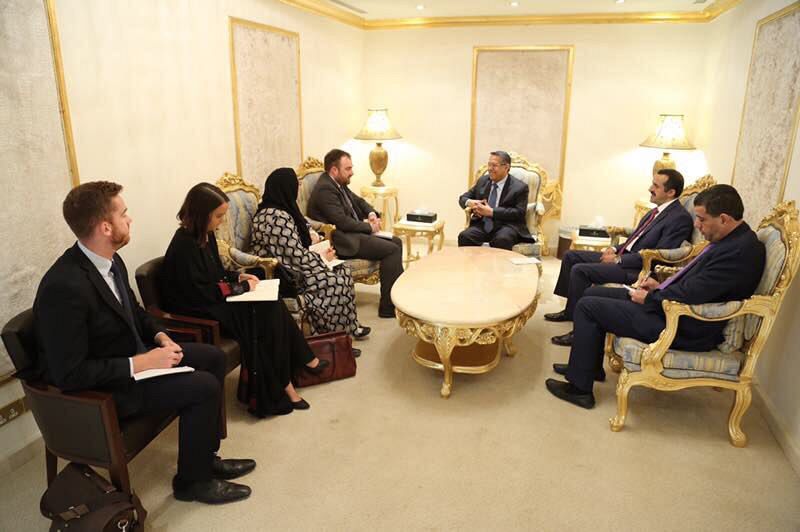 Riyadh, (Saba)- Prime Minister Ahmad Ubaid bin Daghr has highlighted historical relations between Yemen and the United Kingdom and its positive and constructive position in supporting Yemeni people and its legal government in restoring the state and overturning Houthi-Saleh's coup.

During his meeting with Vice Chairman of Arab and Gulf Department at UK Foreign Office Nichols Alton, bin Daghr highly valued Keenness of friends in the UK on protecting UNSC's resolutions led by Decree No. 2216 as a political solution and ending the war being waged by Houthi-Saleh's miitias.

The unified and consistence international position for upending the coup in Yemen is a serious message to all rebel gangs and armed militias wherever they are that they will be faced forcefully, said bin Daghr.

The international community should double its pressure on Iran, who supports sabotage and destruction in Arab region and adopting firm attitude to punish it for trafficking weapons to rebels and for its plots in seizing Bab al-Mandab Strait and threatening international maritime.

The meeting tackled latest developments in Yemen, especially political, economic and security and the government's efforts in restoring order. It also dealt with humanitarian and rights issues over the war against Yemeni people.

According to our information, Houthi-Saleh's militias collected YR. 581 billions, which are enough to pay the salaries of the employees for eight months in their-held areas but they rejected handing it over to the bank and banned government's employees their salaries, said Prime Minister bin Daghr.

He called on the international community to take serious action over the issue of the employees' salaries and rejection of handing over revenues to the government's bank.

This issue must solved imminently as the catastrophe increases everyday without any attention from the militias, said bin Daghr, asserting the government's readiness to deal positively with any suggestions lead to solving this issue.

For his part, the British official appreciated efforts exerted by the legal government to ease exiting humanitarian crisis and renewed support of his country's government to legal government and to the political solution to the crisis.

He noted to his country's readiness to implement its plans aiming at easing humanitarian suffering of the Yemeni people, fighting terrorism, and restoring order in Yemen.



---

Major General Al-Zubaidi discusses with US envoy the dangers of the Houthi escalation in the Red Sea and Bab al-Mandab

Yemen joins Sessions of International Development Association

Saudi Arabia, Qatar confirm full support to solving Yemen's crisis

Chief of Staff discusses with Egyptian Counterpart military cooperation

Electricity Minister, Korean Ambassador discuss cooperation in Energy

GCC confirms its full support for Presidential Leadership Council to reach political settlement

Water Minister participates in the first high-profile meeting on the fair transition

Yemeni embassy in Riyadh first station abroad to see launching of smart ID cards

Yemen condemns Israeli occupation forces' resumed aggression on Gaza

UN Security Council condemns acts of piracy and attacks on ships by the Houthi militias