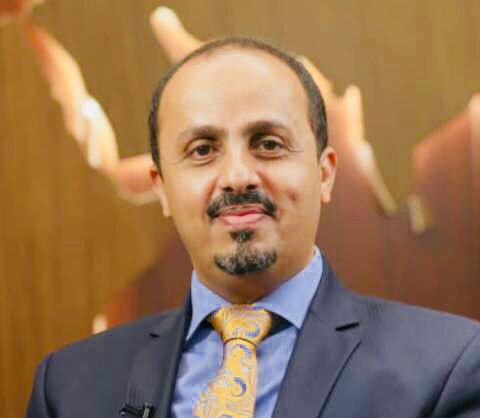 RIYADH-SABA
Yemen's Information Minister said the Houthi confrontations with Al-Qaeda alleged by the Houthi militia to have recently taken in different areas of central Yemen's Beidha province is a deception to the public opinion and a cover-up on the militia's coordination with the other terror groups.
In a detailed statement to Saba, Muammar al-Eryani said the theocratic militia have not engaged with Al-Qaeda and Daesh since their seizure of the capital Sana'a on 21st September 2014 "until today."
"Actually, they (Houthis) have marched on the outposts of the army and pro-army tribes in Qayfa and Radaa in coordination with Daesh and Al-Qaeda," he said. As the Houthi military trucks passed the territories of Qaeda and Daesh heading towards the army sites, "no single bullet was exchanged between them."
"The Houthi recent 'capture' of [allegedly Qaeda-held] terrorist hotspots outside the government-controlled areas and adjacent to the Houthis' in Walad Rabee'a and al-Qorashiya areas, in Beidha, province has taken place based on collusions previously agreed such that the terrorist elements withdraw and Houthis come and declare the 'capture'."
Al-Eryani said Daesh fighters have, in addition, took part in the Houthi siege on the army-controlled area of Dhi Kaleb in circumventing the army's front of Aqabat Zaaj. "Daesh were also present in Najd Ashwaher area behind the Houthi troops who were advancing towards the army-held Almeshayraeef area. Later, Daesh militants withdrew toward Radaa district through the main highway, carefreely passing through Houthi security checkpoints," al-Erani elaborated.
He said the Houthis have facilitated the transfer of food, firearms and more sophisticated military equipment to Daesh as these equipment pass through Houthi checkpoints. And when clashes erupted between the army and the two terror groups in Hammat Likah, Hammat Awajah and Serar Aljashm fronts, the Houthi artillery stationed in Sablat Aljarm outpost and Al-Qaseer military camp were used to support Daesh," he added.
Citing more evidences the three terror group are acting like a united front against the government, al-Eryani said: "Daesh and Al-Qaeda also mounted a number of attacks on the posts of the army and the (pro-army popular) Resistance force.
They particularly attacked a battalion by Mr. Sinan Jaroon in Yaklaa area, cut the supply lines to the army in Al Sakhar and Al-A'atf in Yaklaa and killed pro-government tribal figures like Sadeq Al-Se'aymi Al-Qayfi for what they said is his facilitation of the recruitment of former army officers to come from Dhamar province to the government-held city of Marib."
Al-Eryani said that after capturing Sana'a, the Houthi militia released Al-Qaeda elements from Sana'a intelligence jails, on 13th November 2018, in December 2019, on 22nd April 2020, and in mid-2020.