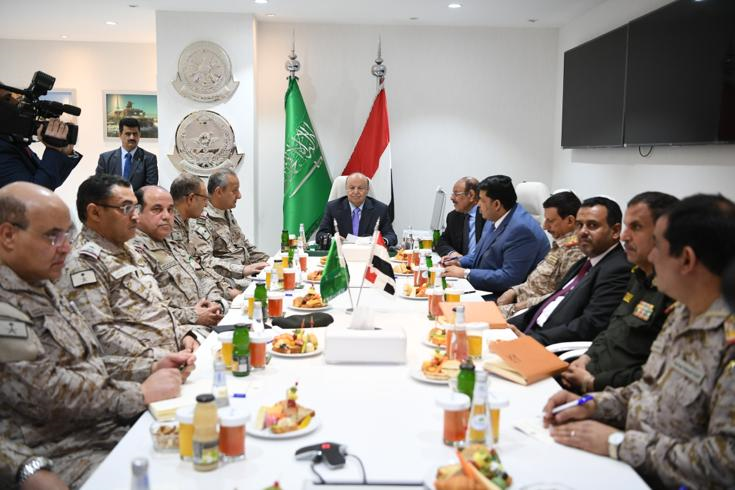 RIYADH-SABA
President of the Republic Abd-Rabbu Masnour Hadi--Commander-in-Cheif, along with Vice President (Lt Gen) Ali Mohsen Saleh paid Thursday a visit to the headquarters of the Joint Command in the Ministry of Defense in the Kingdom of Saudi Arabia.
His Royal Highness (Lt Gen) Prince Fahd bin Turki bin Abdulaziz al-Saud, the Commander of Joint Forces received them.
They convened a session included senior commanders in charge aimed to discuss the latest developments about the combat operations in the battlefields in the governorates of Marib, Aljawf and Sana'a.
They followed up through TV direct and live contact and telecom with the commaders in the battlefields represented by the Minister of Defense Mohammed Ali al-Maqdashi, Governor of Marib, Commander of Joint Operations Maj. General Sagheer bin Aziz and Commander of Coalition Forces in Marib Maj. General Abdulhameed al-Mazini.
President Hadi praised the significant role of the Kingdom of Saudi Arabia in support of Yemen, its security and stability.
He said" The Suadi-led Arab Coalition's role isn't only as a key supporter but as a geniune partner in Yemen during the peace and war-times.The Coalition's efforts are being deeply appreciated by all Yemeni peoples".
For His part, Prince Turki breifed briefed President Hadi on a range of military operations and missions undertaken by the Command of the Joint Forces to support Yemen and its legitimate leadership headed by President Abd-Rabbu Mansour Hadi.
Director of the Republic Presidency Office Dr. Abdullah al-Alimi was in attendance.