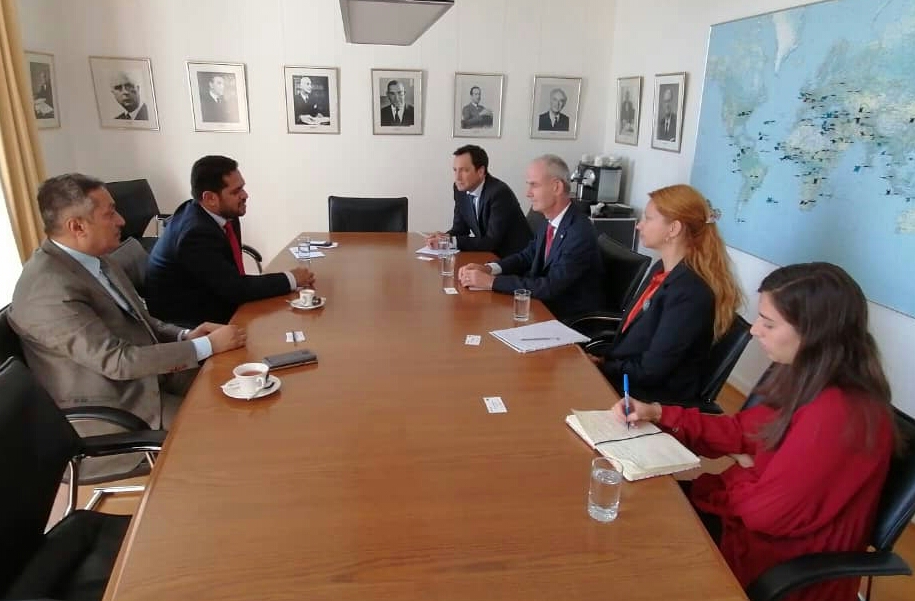 GENEVA-SABA
Minister of Human Rights Mohammad Askar discussed Friday with Vice President of the International Committee for the Red Cross Gilles Carbonnier a number of topics and human rights issues in Yemen and cooperation between the ministry and the ICRC.
Askar praised efforts excreted by the committee in Yemen, confirming his ministry's keenness on expanding cooperation with the committee in the country. He valued the committee's role in curing injured people over the ware triggered by terrorist Houthi militia with support from Iran and urged the committee's officials to inspect conditions of the kidnapped and detainees in Houthi militia's detention cells.
He acquainted the ICRC's officials with humanitarian developments in Yemen under continuous Houthi militia- triggered war in the country and the ministry's efforts on awareness in human rights issues.
He confirmed that the ministry will provide facilities to humanitarian activities and give priority to the committee's joint activities with the ministry.
For his part, the ICRC's vice president pointed out that the committee will carry out some activities in Yemen and will expand and improve cooperation with the ministry of human rights to include files of prisons and detentions and capacity building in the field of humanitarian international law.
He provided a review on the committee's activities carried out in Yemen.