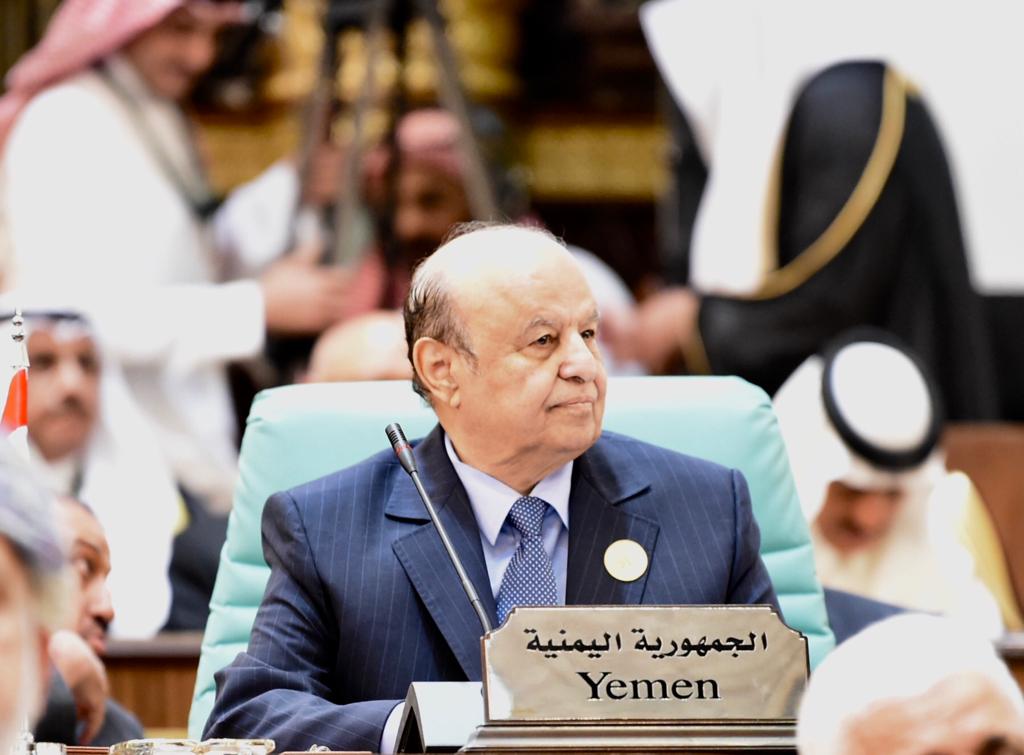 MECCA-SABA
President Abd-Rabbo Mansour Hadi has said Iranian regime created sectarian militia in Yemen and has been taking care of it for long years and fed it with spites on history, human being and Yemeni civilizations and incite it on neighbors.
"It (Iranian regime) wants changing Yemen into a launch pad for harming security and stability of the region and the world."
"Yemeni people is waging its glorified battle against these militias with the help of its own civilized heritage and support of brothers in the Arab Coalition, who do their duty for helping Yemeni people and banning Iranian savage hegemony on the people and its capabilities," said President Hadi in Yemen's speech he delivered in the Islamic Summit held in Mecca.
He pointed out that Yemen- with its government, army, resistance and all Yemeni categories- have faced this sectarian agenda and its agents " we will continue to face the ally of Iran, Houthi rebel militia, which is feed on violence, terrorism and chaos to attack the state and citizens until ending the coup and restoring the state, peace and security and stability."
He added that they are waging a war imposed on them against Houthi militia, which is supported by Iran and feed it with different means of force and that the stability of the region requires beating these armed groups that looted weapons from the state's weaponry and with smuggled weapon from Iran.
" Yemen has been one of the leading countries warned of Iran's evil in the region in all in forums, and Yemen has been one of those countries have been hurt by this sectarian agenda, which seeks to split Arab and Islamic countries on malicious bases using religion as cover to its bad wills," said president.
To avoid war in Yemen, he said, they exerted all efforts and made concessions and "went to verges of earth seeking for peace and opened our hearts for those we thought brothers in religion and national soil." But every time they increase their blots and escalations and with any chance for peace, they open a front and with every chance for reconciliation, they open fire.
" And with any ceasefire we announce, they dig trenches and plant mines," he said, confirming that they never plant anything than mines and explosives and did never build anything other than prisons and graves and their controlled areas are prosperous with culture of violence, war and destruction," he said.
He sent his message to the whole world that the conflict in Yemen is between terrorist and sectarian militias supported by Iran and overthrown the state and looted the wealth of the people and Yemeni people represented by their government, the state, local communities, political parties and all its categories.
President Hadi concluded that despite this battle, they exert every possible effort for normalizing conditions and meeting people's basic and necessary means and distributing relief aid to all Yemeni people