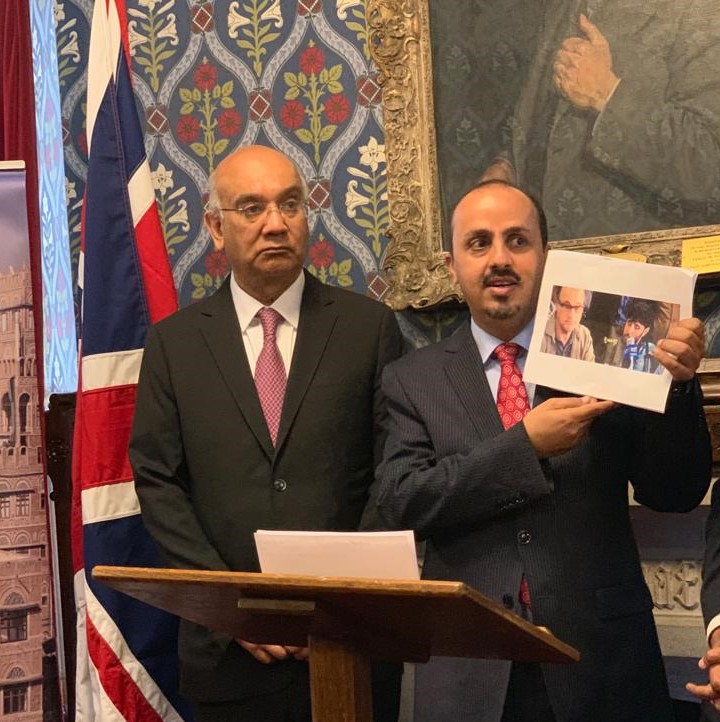 LONDON-SABA
Minister of Information Muamer al-Iryani stated that peace in our country can only be realized by robust international pressures upon Iran and putschist Houthi militia.
Addressing an audience attended a function titled" Yemen Day organized by Yemen's Group in the British Parliament on the 29th Anniversary of Republic of Yemen National Day May 22, he provided a presentation about Houthi militia's practices, its track record of breaching all agreements it has signed on since its emergence and six wars it fought against the state.
He said" The government led by President Abd-Rabbu Mansour Hadi has been keen-seeker for peace, to this end it has frequently given peace chance in order to stop war, establish sustainable peace for our peoples".
Al-Iryani added" But the militia has repeatedly proved that it does only believe in war and it is ready to arson everything to achieve its sectarian scheme which rejected by all Yemeni people".
For his part, British Secretary of State for Foreign and Commonwealth Affairs Jeremy Hunt, who contributed to the discussions, affirmed the UK's continuous efforts along with other international actors' to make peace in Yemen and put an end of the Yemeni peoples' suffering.