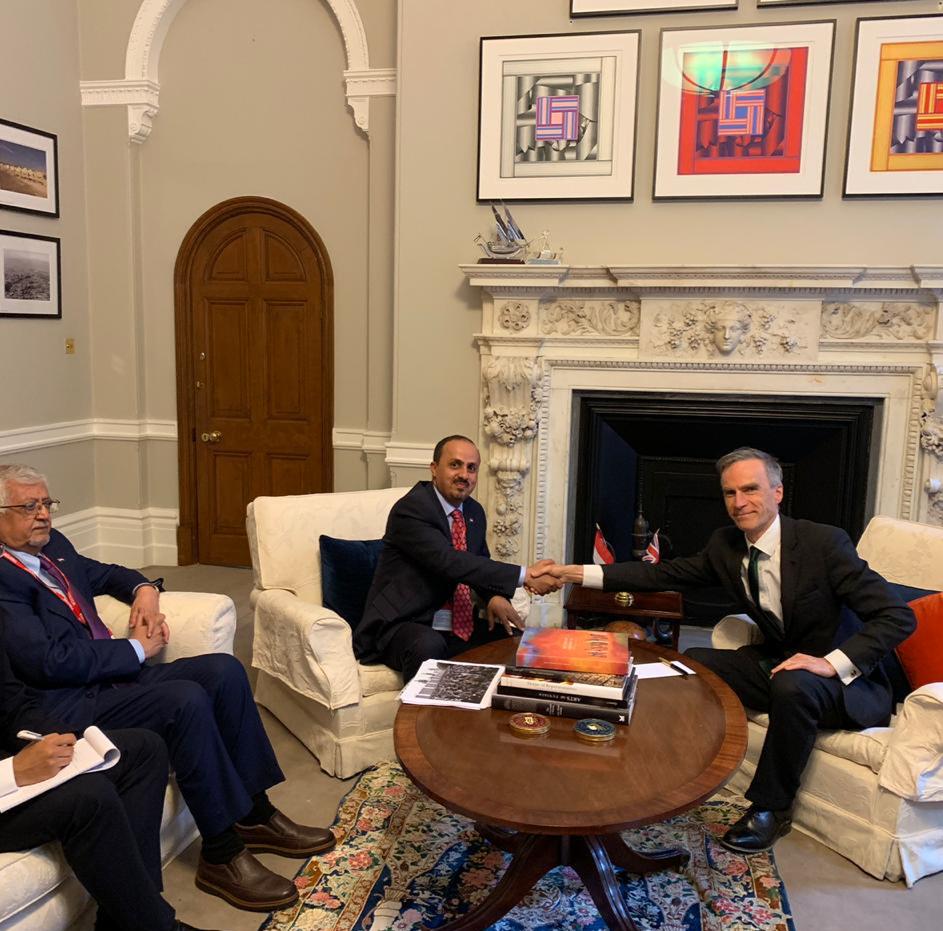 LONDON-SABA
Yemen's Information Minister Muammar al-Eryani has renewed the Yemeni government' rejection of Houthi announced "unilateral withdrawal" from Hodeidah without observation from the government and the UN.
In a meeting with Andrew Murrison the British Minister of State at the Foreign and Commonwealth Office and the Department for International Development, Muammar al-Eryani said the Yemeni government rejects "any unilateral steps without observation, verification and handover of the maps of landmines and explosives that the Houthi militia has planted."
He said the previous meetings and the Stockholm Agreement between the government and the rebel militia provide for such a supervised withdrawal and handover of the Hodeidah city ports to the local authorities as per the Yemeni law.
Al-Eryani called the unilateral and unobserved Houthi withdrawal "a new stage play that aims to mislead the international community in repeat of last December's awkward stage play" when the militants handed over the ports to fellow militants wearing Coast Guard uniforms."
Al-Eryani said the militia have committed countless violation and atrocities against civilians since the signing of the Stockholm Agreement on December 13. He cited the Houthi incursions and massacres in Hajoor areas in the northern province of Hajjah and in the southern province of Dhale'a. "All previous experiences show that Houthis have no history of honoring agreements," he said .
He called upon the UK and the whole international community to take a firm action against the militia to force them to adhere to the Stockholm Agreement and the overdue UN resolutions.