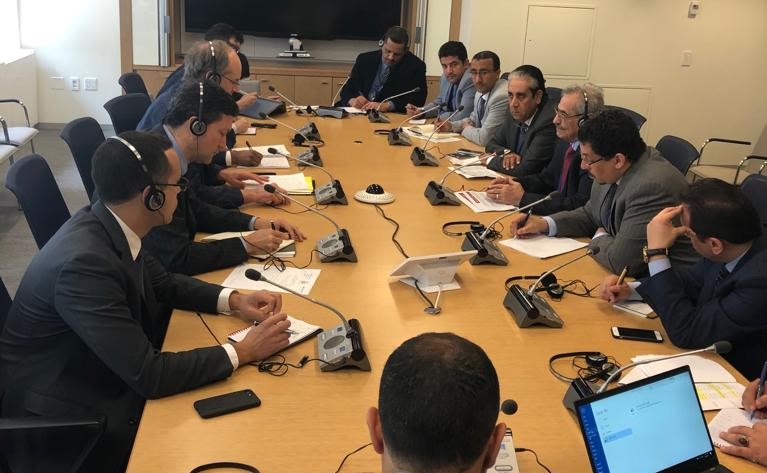 WASHINGTON-SABA
Official talks held here on Wednesday between the Central Bank of Yemen (CBY) and International Monetary Fund (IMF) Mission to Yemen. The discussions took place in the HQ of the IMF in Washington.
The session co-chaired by Governor of the CBY Hafedh Meayad and the Head of IMF Mission to Yemen Albert Jaggier.
The talks focused on topics pertaining to updating, restructuring and institutionalizing the CBY and challenges facing banking system in Yemen.
The governor of CBY detailed the head of IMF and his team about the efforts aiming to update the CBY to bring it up to standard, to activate key departments of the CBY such as Monitoring Section , External Banking Transaction.
Meayad cited the most important challenges facing the CBY, the underway efforts to manage them and the main objectives of the bank's leadership has been seeking to achieve.
He stated that he is working to modernize the CBY, getting it restructured and updated so that it can do its job effectively.
Meayad also cited practical steps have been taken by the CBY to manage the economic hardships, maintain the exchange rate of national currency, regulating the fuels importing procedures under the government decree no 75 of 2018.
He stated that the major challenge facing the CBY and Yemeni government is the closure of the Yemeni banks' accounts in the American and EU banks, noting that this is further exacerbating the humanitarian crisis in Yemen.
The Finance Minister Ahmed al-Fadhli and Yemen's Ambassador to Washington Ahmed Awadh bin Mubark were in attendance.