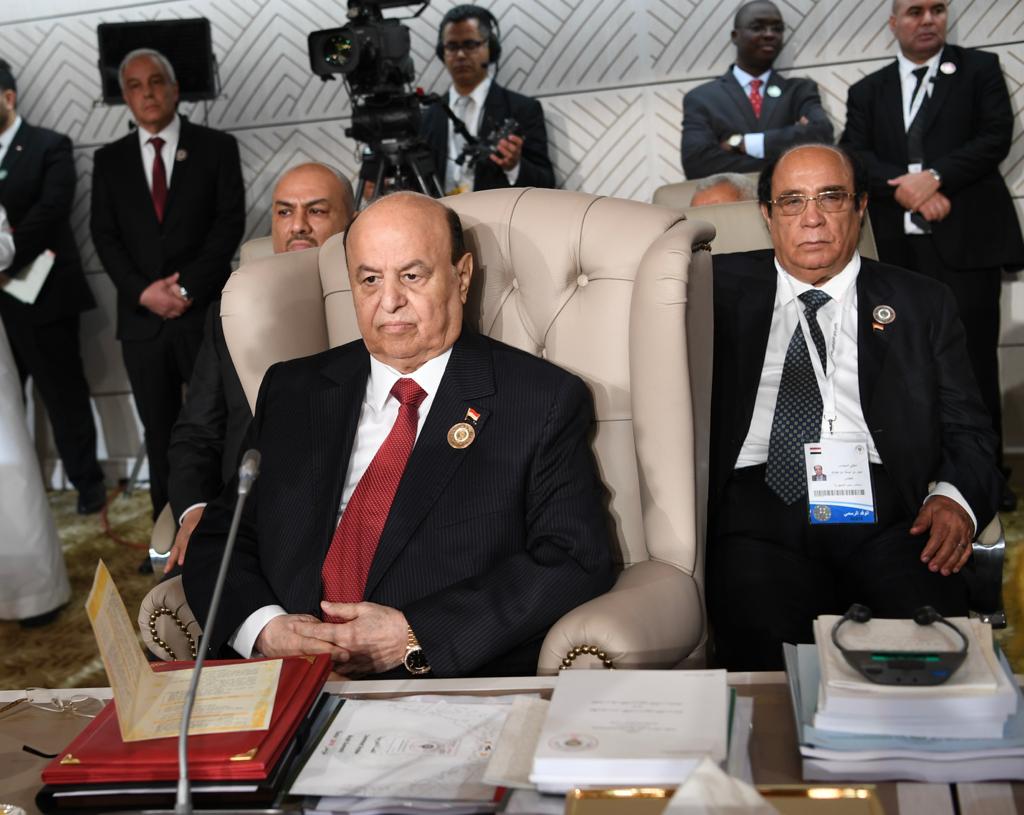 TUNISIA-SABA
President of Republic Abd-Rabbu Mansour Hadi stated that the volume of the catastrophe that Yemen has suffered due to Iranian regime-allied Houthi militia's coup d'état is an unimaginable; noting that the calamity touched upon every city, quarter, village and house in Yemen, and the warfare triggered by this terrorist militia has further exacerbated Yemen's economic, humanitarian and security problems.
Addressing the Arab League Council's 30th Session in Tunisia on Sunday, President Hadi made a reference to the " Decisiveness Storm Operation" launched by Saudi-led Arab Coalition on March 26, 2015 to counter the terrorist sectarian Houthi militia's coup. He described the decision of Saudi-led Coalition intervention as a historic event would go deeply down in Yemen's history and Yemeni peoples' memory.
President Hadi said" Our Arab brethren rushed up to offer the Yemeni people a hand of help, providing every necessary support to help us putting down the coup and reinstate the official authority in our beloved Yemen homeland".
The President reiterated that legitimate government has never rejected peace and good offices and efforts aiming to establish peace and put an end of the Yemeni peoples' suffering. He noted that the government has already engaged in the UN-sponsored consultations, but the Houthi militia encouraged by Iranian regime has deliberately intended to foil these peace efforts and consultations by refusing to implement what were agreed to, the most recent agreements reached in Sweden.
The President added" Nothing new in the militia's rejection to implement the Stockholm Agreement, we were fully aware since the beginning of Stockholm's consultations that the militia won't implement anything of what has been agreed to, the fact is that the militia is famous for failing to honor its obligations".
President Hadi touched upon the formidable challenges facing Arab peoples and nation, underlining the importance of joint and collective Arab action to manage these challenges, most important of all Palestinian cause. He also reiterated rejection of any violation of the Syrian peoples' rights to regain their Arab occupied Golan territories.