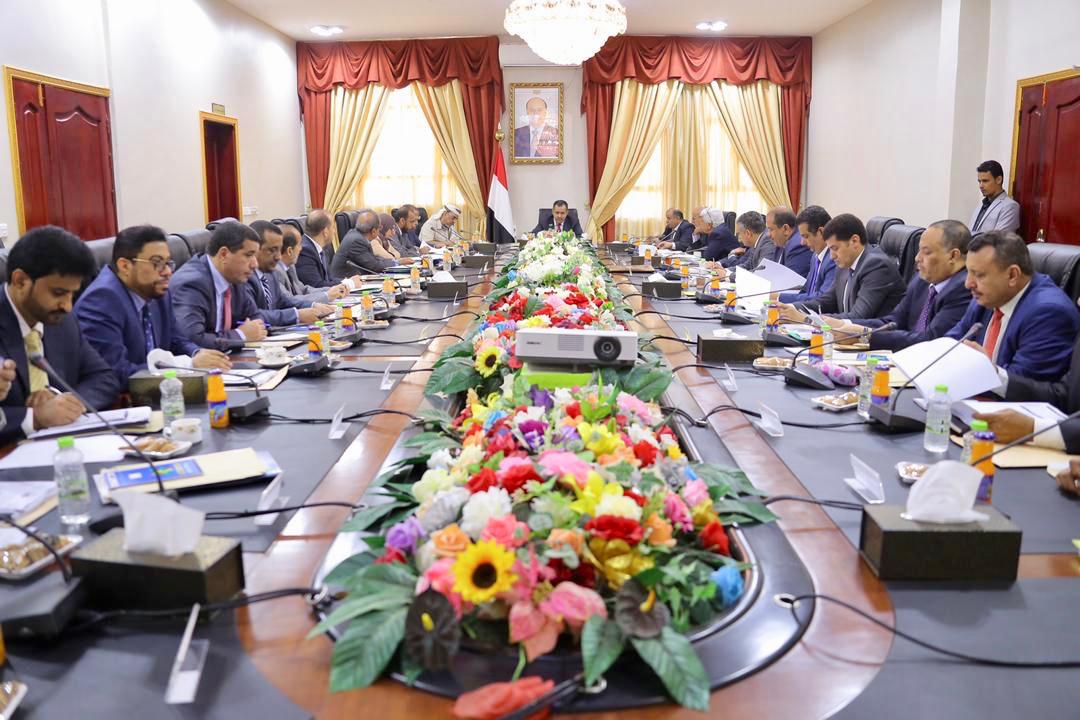 ADEN-SABA
The Council of Ministers discussed in its meeting held on Tuesday issues associated with service and development in liberated provinces and developments of internal and external political situations.
The council hailed the Fourth Anniversary of the Firmness Military Storm Saudi Arabia led in response to President Abd-Rabbo MansourHadi and Yemeni people's call for rescuing them from tyranny of Iranian Houthi rebel militia, confirming that the storm represented significance change in the joint Arab work.
The cabinet said that Yemen and their brothers in the Arab Coalition are about to achieve great victory to end Houthi coup and its foreign agenda, confirming that Yemeni people will not forget those courageous and honest positions of Arab brothers, whose blood mixed with the blood of their Yemeni brothers on Yemen's pure soil for rescuing them from the most malicious bloody and sectarian agenda targeting Arab national security.
The council discussed the US Administration's recognition of Israeli entity's sovereignty on occupied Arab Golan Heights of Syria and repeated its condemnation of such measure which violated International Law, confirming that this measure will not change the legal status of Golan Heights as occupied Syrian territories.
Prime Minister Ma'een Abdulmalik, who chaired the meeting, acquainted the ministers on his meetings with Ambassador of the Super Powers during their visits to the transitional capital Aden led by US and Russian ambassadors, whose visits included support to the government for normalizing conditions and regaining the state.
Prime Minister pointed to government's vision on realizing inclusive and just peace on the bases of the three references and significance of taking firm position by the International Community towards Houthi stubbornness on not implementing Stockholm agreement.
He directed ministries and concerned bodies to double their efforts for improving services, keeping the local currency stable, activating income sectors ( led by oil and gas,) boosting the responsibility of monitoring and control apparatus and managing administrative faults in different sectors.
"We will not deviate from the national interest and our keenness on honesty the Council of Ministers shoulders," said prime minister, pointing to relying on national support and keenness of all for finalizing liberation and regaining and re-building the state.
The ministers listened to a report from the minister of interior on security situations in Taiz Province and efforts of the local authority and security and military forces on controlling the situation and regaining order in the province.
The council confirmed neutralization of security institutions and making them away from political conflicts and working on boosting them to enable them perform duties on realizing peace and protecting people and their possessions.
The Council of Ministers agreed on the Personal Identity Smart Cart Project presented by Minister of Interior and discussed a project presented by Minister of Justice on Judiciary Police, which aims at realizing judiciary security and realizing the rule of law.
The cabinet listened to a review on collecting revenues from provinces of Ayan, Dhale', Lahj, Taiz and Shabwa and fixing faults accompanied collecting the revenues and discussed a report provided by Minister of Planning on his visit the State of Kuwait and agreements he signed there.