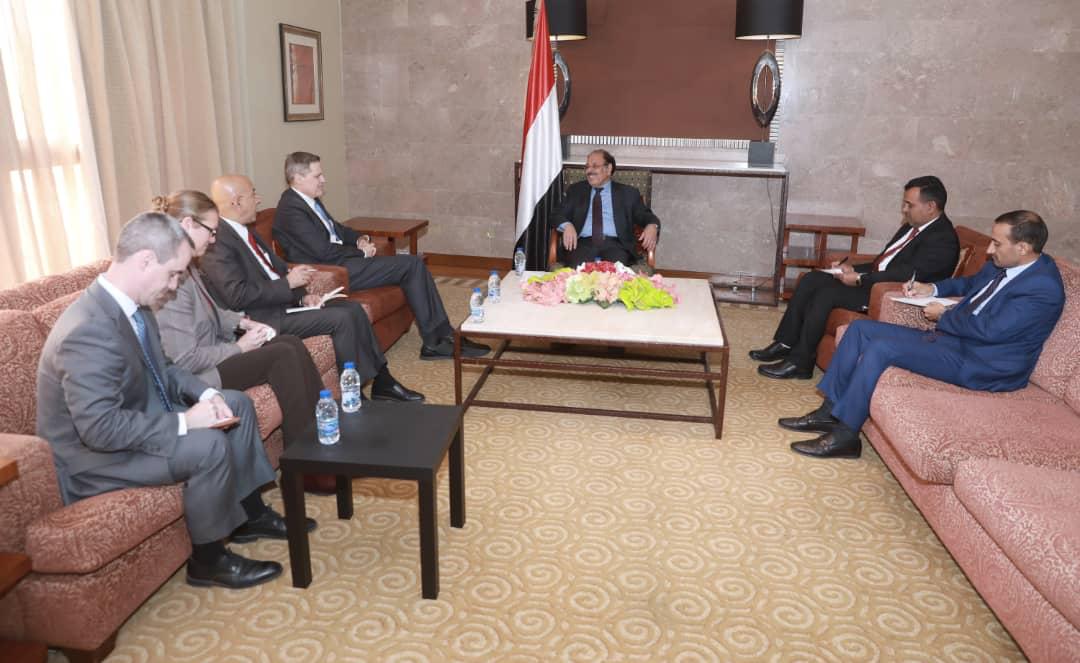 RIYADH-SABA
Vice President Ali Mohsen Saleh received on Wednesday US Ambassador to Yemen Mathew Tuellerand discussed with him political developments in Yemen and mutual relations between the two friendly countries.
Vice President praised relations between Yemen and the United States and US positions for supporting legality in Yemen under President Abd-Rabbu Mansour Hadi.
He pointed to Houthi stubbornness for failing the Sweden Agreement regarding prisoners and Hodeida and their continuous breaches of the ceasefire as they always do with treaties and agreement.
He renewed government firm support for peace and security based on the three references; the GCC Initiative, the outcomes of the National Dialogue Conference and the UN Resolution 2216.
For his part, the US diplomat expressed his country's appreciation for realizing peace, confirming support to the legality, peace and stability of Yemen and rejection of Iran's interventions.
The meeting touched upon joint efforts for stopping Iran's interferences, fighting extremist and terrorist groups, limiting smuggling and strengthening cooperation and coordination in this field for deep-rooting international peace and security.
The two parties also discussed government's cooperation for the purpose of making Sweden Agreement's successful and Houthi hindrance of the agreement.