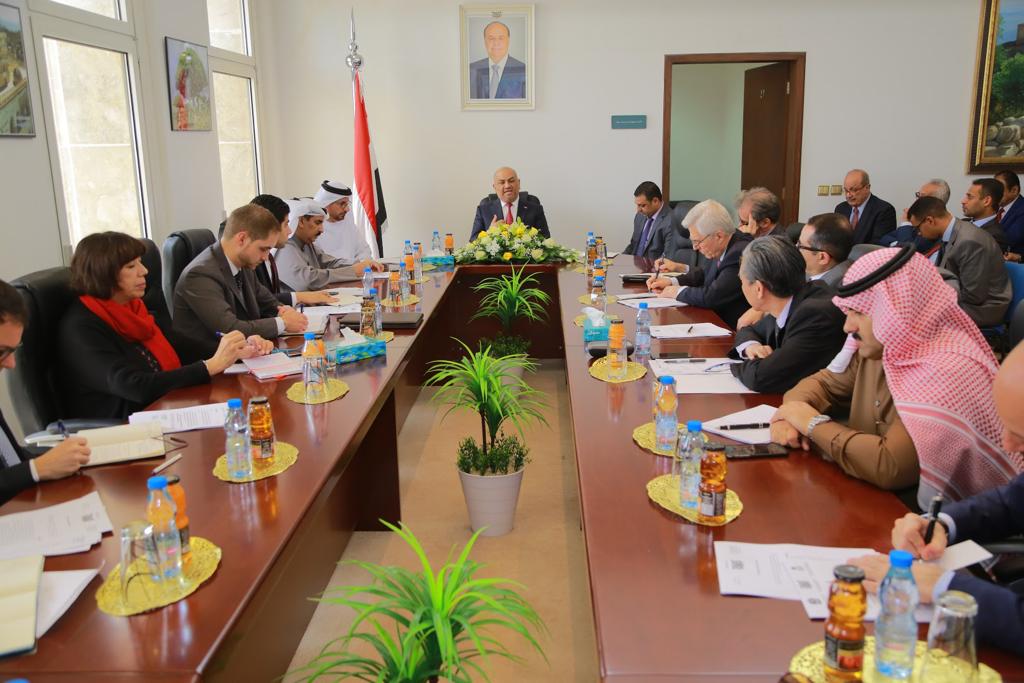 RIYADH-SABA
Foreign Minister Khaled Al-Yemany held a meeting Tuesday included Ambassadors of Group 18 countries (G18) backing peace process in Yemen.
He started with voicing appreciation of the political leadership led by President Abd-Rabbu Mansour Hadi to the friendly G18 countries for their support for the Yemeni legitimate government and the UN envoy's good offices aiming to resume political process and establish peace based on the three terms of reference agreed on.
The Minister briefed the Ambassadors on the outcomes of Stockholm's Agreement about the militia's withdrawal from the seaports of Hodeidah, Al-Salif and Ras Essa and redeployment in the city and governorate of Hodeidah. He cited the developments about the implementation of the agreement and the UN's role in this regard.
He also touched upon the developments about the prisoners, abductees and enforced disappeared exchange agreement.
Al-Yemeni insisting on the role should be played by the countries which are backing peace process in Yemen in mounting pressure upon the Houthis to comply with the International resolutions and implement Stockholm's Agreement which hasn't been put in place since it was reached to on December 13. He touched upon Houthi putschist militia's breaches of cease-fire, re-entrenching their militants, taking advantage of cease-fire to reinforce their military positions.
The Foreign Minister reiterated the Yemeni government's support for the UN's efforts and its special envoy to pursue peace process in Yemen. He stressed on the importance of implementing Stockholm's Agreement through clear and stated time-line prior moving ahead to a new round of consultations.
He made clear that any postponement of implementing Stockholm's Agreement will have negative impact upon the government's position about the forthcoming consultations. He stated that efforts and resources need to be devoted to make tangible step to carry the agreement about Hodeidah . He demanded official clarification to the Yemeni government about the UN's mechanisms to implement the Agreement in order to study and made its decision about.
Al-Yemen has confirmed the government's continuous support the UN's envoy Martin Griffiths. He stated that the government is ready to provide Griffiths with every necessary assistance to enable him getting his mission accomplished.
The Minister stated that the government is open to and willing to engage effectively in any UN-led political consultations following fully implementation of Stockholm's Agreement.
Al-Yemani stated that Stockholm's Agreement is very clear can't bear any interpretation, particularly about the responsibility of security in the Hodeidah city and seaports, it the responsibility of national security forces under the Yemeni law and official authority's legal frameworks should be observed.
He noted that International Law and UN Chatter don't recognize but one single Yemeni government, the internationally-recognized government headed by President Abd-Rabbu Mansour Hadi.
The Ambassadors expressed their commitment to the UN's track as a single way to achieve peace and re-establish stability and security in Yemen.