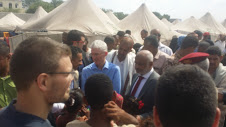 LAHJ-SABA
The Governor of Hodeidah, Al-Hassan Taher, and Governor of Lahj, Ahmad Al-Turki, discussed with the UN Under-Secretary-General for Humanitarian Affairs Mark Lowcock and his accompanying delegation the conditions of internally displaced persons of Hodeidah province resettled in the camp of Al-Rebat in the southern Yemen city of Lahj.
Taher recounted the humanitarian situation of the IDPs saying that all international organizations should work to improve these situations.
He referred to the Arab and international relief aid efforts to alleviate the humanitarian crisis that the Yemeni people are suffering due to the Houthi militia's coup and war that started more than three years ago.